Tag: multi-tasking brushes
Today I want to tell you about the Sigma Beauty Synthetic Kabuki Kit. It comes in a pretty packaging and all brushes are also packed individually inside.
There are four brushes:
F80 – Flat Kabuki: Application of liquid or cream products to flat areas of the face such as the forehead and cheeks.
F82 – Round Kabuki: Blend mineral products onto the skin.
F84 – Angled Kabuki: Buff cream blush or bronzer onto the skin.
F86 – Tapered Kabuki: Apply cream and liquid foundations onto the harder to reach contours of the face.
Each brush retails for $16 but you can get the set for $56 and save $8.
Here is how the brushes look like.
I actually  really love these brushes and will start the review with the most popular brush which is
F80 – Flat Kabuki

This is a flat brush with synthetic bristles which makes a foundation application flawless! It is very soft and not very dense so doesn't hurt the skin and also allows you to built up the shade. Also I find that it saves a lot of time. This is a prefect brush and I would totally recommend it! I am now a convert.

F82 – Round Kabuki

This is a round kabuki with denser  (than the flat kabuki) synthetic bristles.  I find that while the flat kabuki can give you a rather sheer coverage, this one is perfect for foundations with a higher coverage but it also works great with tinted moistirisers. This brush is
Japonesque was founded 25 years ago but it is already a cult brand. It was originally made by Make-Up Artists for Make-Up Artists.  Brand's tools were inspired by the professional make up tools used in kabuki theater in Japan.
These days Japonesque has a big range of brushes and accessories which are loved by a lot of  Top professionals from the beauty industry.
This is why I was very excited when I was given some of their brushes to write about.  In this post I will tell you about the travel brushes for face and in future I will let you know about the brushes for eyes and eye brows. Unfortunately, I don't have a lip brush to show you.
The packaging is nice, simple and really helpful.  They have some very handy instructions on the back of  each box. All I can say is that I'd really appreciate it back in the days when I was getting my first brushes.
And here are the face brushes that I have in all their glory 😉
933 Travel Powder Brush, 924 Travel Blush Brush, 914 Travel Angled Foundation Brush, 910 Travel Concealer Brush.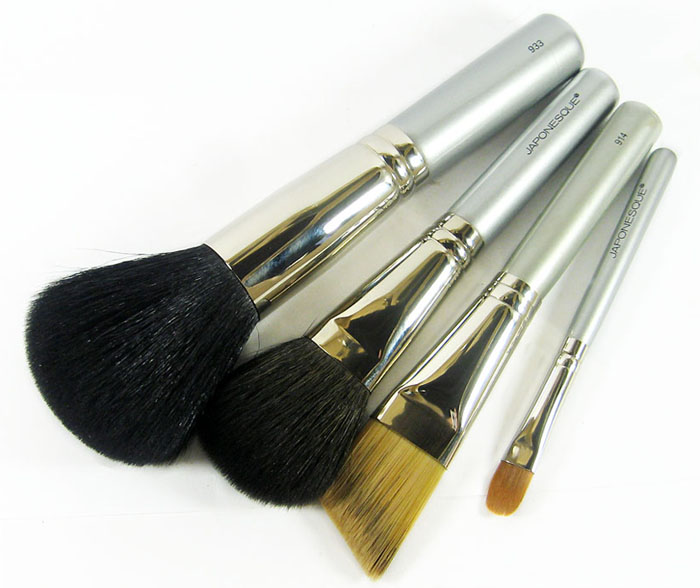 So now let's take a look at each brush, shall we?