I think that you already know how much I love looking at all the makeup looks from the Fashion Weeks. I think I could spend hours looking at them if I did not have a job (ha!)…
I also love the fact that you find out about the new seasonal products quite early. And for me it's never too early.
So here is the look that was created by makeup artist Robin Black for Hourglass at the Imitation of Christ show SS13.
The look was inspired by Brooke Shields in Pretty Baby, Vanessa Beecroft, and Pina Bausch and 'distinctly ethereal and surprisingly wearable'.
Here is what Robin Black said: "We varied the shade depending on the woman's coloring. And for those models in the third edgy space, we extended the lip color outside of the mouth for a more theatrical look that is not for real life."
GET THE LOOK
 SKIN
Review and swatches
Start with Hourglass No. 28 Primer Serum to create a seamless canvas for makeup and treat the skin with an infusion of essential oils. Follow with Hourglass Illusion Tinted Moisturizer, applied with the Hourglass # 2 Foundation brush, for a glowing complexion. Conceal dark circles or skin imperfections with Hourglass Hidden Corrective Concealer.
 CHEEKS
Review and swatches
Contour and highlight cheeks with
So here is the next look from the NYFW. This time it is by Hourglass Cosmetics. And if the NARS one was obviously for the runway, this one you can wear in your everyday life.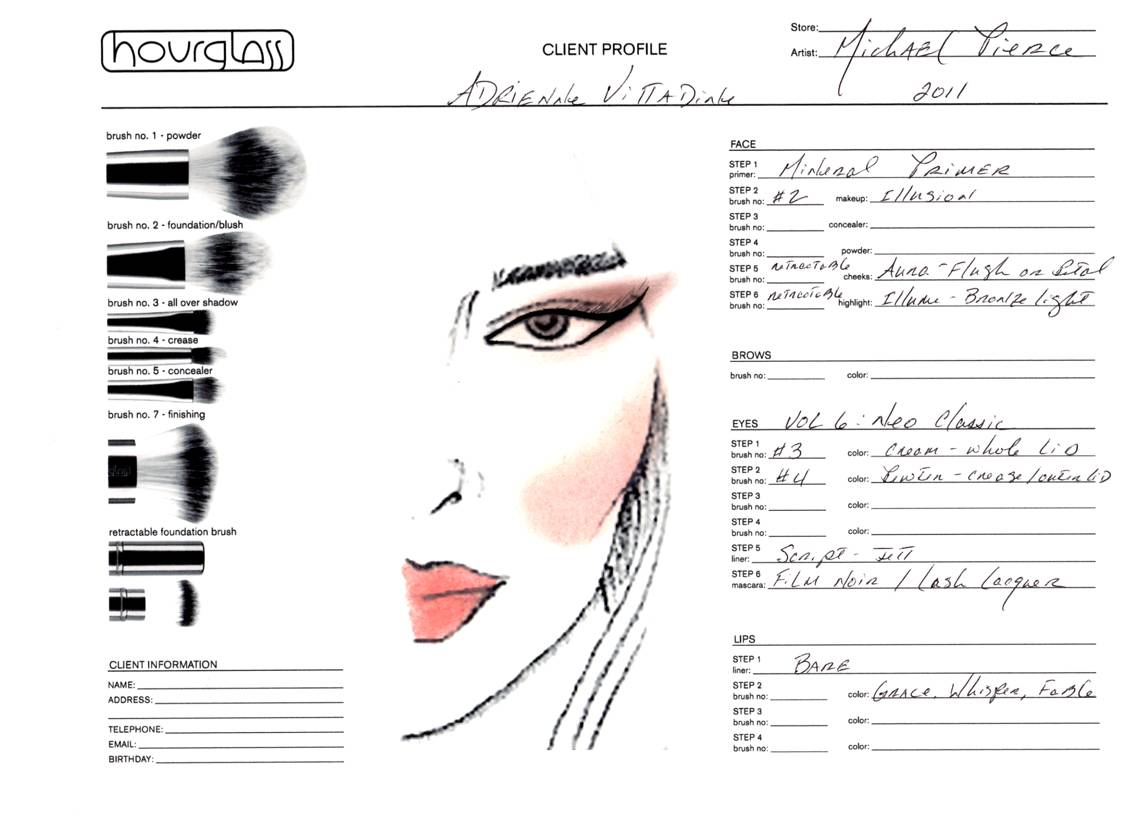 Inspiration for the look:
"At Hourglass we're dedicated to timeless glamour and ageless beauty, which was a perfect fit for the Adrienne Vittadini show at New York Fashion Week this season. I was determined to showcase the iconic faces of the women in the show, and not overpower them with makeup. It was about luminous skin, glowing cheeks, glossy lashes and neutral pouts. It was about individual glamour and vivid self-expression," said Michael Pierce (Hourglass Beauty Director).
Star products included:
Illusion Tinted Moisturizer, which has clinical levels of anti-aging ingredients to ensure dewy skin; Aura Sheer Cheek Stain in Flush, to create a radiant complexion on everyone from Roshumba to Niki Taylor; Vol 6. Eye Palette in Neo-Classic, a new palette of wearable matte shades to be released this summer; and Lash Lacquer, a sensational new top coat for lashes to be released in the fall.
Get-the-look:
Skin
Using the #2 foundation brush, Michael started by applying Veil Mineral Primer to prep her skin, followed by