I've posted this beautiful promo  image but do you want to know more about this Bourjois Spring 2011 makeup collection?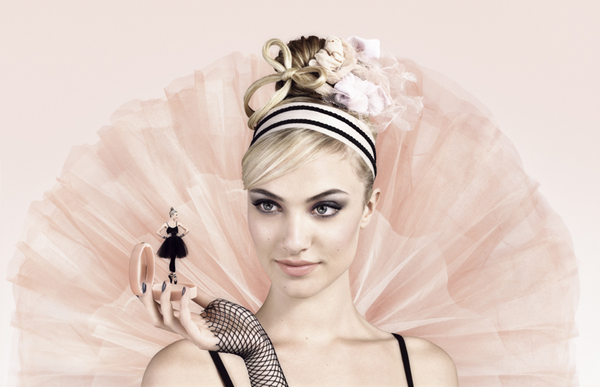 I've got all the details! This collection will include:
Little Round Pot eyeshadow (£5.99/€8.99)
Effet Smoky pencils(£4.99/€7.99)
77 Sand Rose
78 New Wave Blue (on the photo)
76 Ultra Black
I adore These. read my review and swatches of all the other shades here.
Volume Glamour Mascara (£7.99/€10.99)
06 Noir ébène (on the photo)
Effet Smoky Touch (£6.99/€9.99)
I've noticed that a lot of  beauty products are inspired by the Ballerina theme lately. Can this do anything with the Black Swan?
Here is for e.g the new Sephora nail polish collection which is called Urban Ballerina.
It didn't come with Natalie Portman of course, I just put the images together myself
The shades are: 4 x 0.125 oz Nail Colors in (from left to right): Leotard-Optional, The Way Tutu His Heart, Who's Spinning Tonight?, and Break a Leg-Warmer!
I LOVE that grey and purple! I would so get this set (if it was available here) especially for $18 only.
And here is one more Ballerina inspired collection