Tag: products for eye brow growth
Since I've just posted about the new eye brow gels, it seems like a perfect time to review the newest release from Rouge Bunny Rouge – their new eye brow products. I have actually already induced one of them in my July Monthly favourites. The brand does not bring out that many products so when they do – it is most likely something awesome. And what about these products?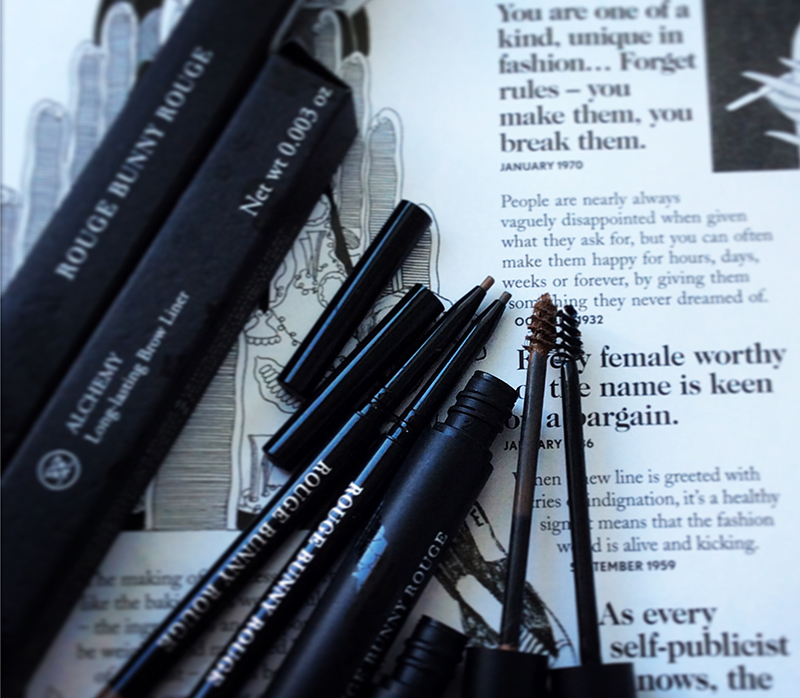 Long-lasting Brow Liner ALCHEMY, €26
Available in two shades:
 ANTIMONY, dark chestnut. Ideal neutral shade for dark brown and black natural brow colour.
TRONA, light hazelnut. Ideal neutral shade for almost any natural brow colour.
It was actually Antimony shades that was in my monthly favourites, and it is brilliant,  it is not  too cool or too warm,  it is also dark enough to add some definition but not too dark, just spot-on.
But it is the formula and the shape of the pencil that I love! As always, the design is exquisite,   this pencil comes in a slick black packaging. And the pencil itself is incredibly thin which allows a very precise application, you can draw in individual hairs and achieve really natural results. This is probably not the on-the-go product but it is
Eye brows are the new black in the last several years, beauty wise. We all are obsessed with gels, powders and pencils that will make them look fuller and will keep them in shape.
A lot of us are guilty of over-plucking our eye brows back in the 90's, luckily mine grew back. But some people weren't that lucky. This is where all kinds of eye brows serums come handy. But if you are scared of using those serums or can't afford them, natural oils can help.
Castor oil is a well know remedy when it comes to eye lashes, hair and eye brows, obviously.
This is why Shavata's Brow Strengthener can be