Tag: Urban Decay fall 2010
Besides the huge collection that I already wrote about Urban Decay has one more new product! Flavored Body Powder. Yummy 🙂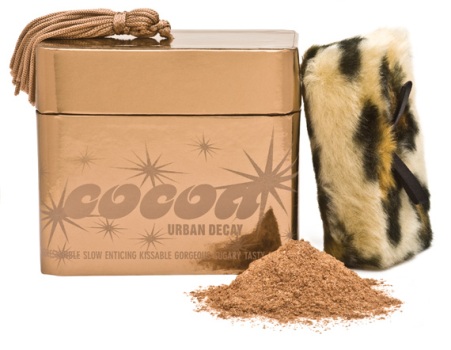 This is how it is described:

"Dust it on and let someone else kiss it away! Sweeten your look or give it a sexy kick by slipping on a seductive sheen. Try them all!.
Flavored Body Powders gives skin a long-lasting radiant glow. Dust on shoulders, face, or decolletage with Urban's signature leopard puff for glistening, soiree glamour. Makes a scrumptious gift for you, your man, or a friend. Powders are sparkly, scented and delicious, just try them and see. Mix and match for new flavors."
There are 3 different flavours:
Honey: smells, tastes, and attracts like…HONEY
Cocoa: a sinfully sweet glimmer, chocolate flavored
Marshmallow: a yummy sparkler, toasted marshmallow flavored
They all are  18g net wt. 0.63 oz, each is $26
Urban Decay Fall 2010 makeup collection is HERE!
Photos of products are from Urban Decay Facebook and Twitter pages.
So here are the items from the collection:
The Vegan Palette, $34
Eyeshadows: Minx, Urb, Gunmetal, Baked, Smog, Half-Baked; Travel-size 24/7 Glide-On Eye Pencil: Zero; Eyeshadow Primer Potion: Sin
This is my fave item from the collection, small and cute eye palette which includes some essentials for eye makeup! But most people can't wait to get the new
Naked palette
12   Eyeshadows ( 5 new, 6 permanent, 1 re-promote)
Virgin (nude satin),
Sin (champagne shimmer),
Naked (buff matte),
Sidecar (beige sparkle),
Buck (brown matte),
Half Baked (bronze),
Smog (golden brown shimmer),
Darkhorse (bronze-plum shimmer),
Toasted (taupe-bronze),
Hustle (mocha shimmer),
Creep (near-black metallic),
Gunmetal (dark grey metallic).
Double-ended 24/7 Glide-On Eye Pencil: Zero (black) and Whisky (warm brown without sparkle).
Travel-size Eyeshadow Primer Potion: Original formula.
Lip Junkies, $19
11 new lip glosses:
I can't believe that I forgot to publish this post (it was among drafts for several days)! Alice in Wonderland the Book Of  Shadows by Urban Decay is back in stock! You can see my photos of the palette here and review and swatches here.
But now it is available in a set for $211 which includes:
Alice in Wonderland Book of Shadows
and full-sizes of:
Honey Body Powder
Eden Eyeshadow Primer Potion
Midnight Cowboy Glitter Liner
Kirk Pocket Rocket Lip Gloss
Razor Sharp Ultra Definition Finishing Powder
De-Slick in a Tube
Big Fatty Mascara
But guess what? Urban Decay created a new Book Of Shadows