I have to say that I really like this new Urban Decay Fall collection. I am sure that fans of the brand are very excited about it.
The most exciting item is the 15th Anniversary eye shadow palette ($55) of course. It's in a beautiful gunmetal box with a purple UD logo on top.  All 15 shades are new and exclusive: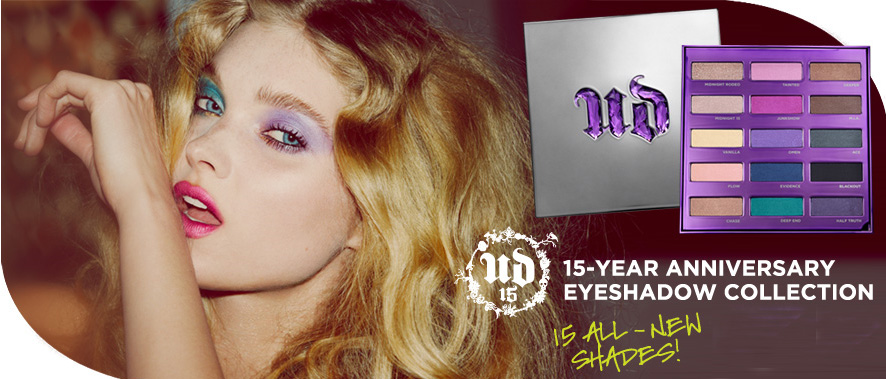 Deeper (deep shimmery golden brown), M.I.A. (soft shimmery dark brown), Ace (dark gunmetal shimmer), Blackout (darkest, most saturated black), Half Truth (shimmery smoky purple), Tainted (pale matte purple with golden shimmer), Junkshow (bright pink w/fuchsia shift), Omen (shimmery metallic bright purple w/blue shift), Evidence (deep metallic blue), Deep End (bright teal shimmer), Midnight Rodeo (medium metallic brown w/silver and gold glitter), Midnight 15 (oyster pearl w/silver glitter), Vanilla (shimmery white gold), Flow (soft peach shimmer), Chase (metallic bright bronze)
24/7 Waterproof Liquid Eye Liners, $18
Bobby Dazzle: white silver w/iridescent sparkle
Demolition: deep matte brown
El Dorado: yellow gold w/gold sparkle
Perversion: carbon black
Radium: bright blue w/silver sparkle
Retrograde: dark purple w/purple sparkle
Revolver: dark grey w/iridescent sparkle
Sabbath: deep matte navy
Siren: teal w/blue shift
Smog: deep brown w/golden shimmer & iridescent sparkle
Woodstock: hot pink w/iridescent sparkle
Urbanbrow Styling
Spring/Summer is know as the time of the weddings and although the most anticipated wedding is already behind us there will be many, many more weddings. Maybe you plan your own wedding  soon 😉
Urban Decay introduces their newest kit which is called the Urban Bribe and is actually dedicated to the premiere of the Bridesmaids film. UD has a competition right now  so may want to visit their website for the details.
So here is what the set contains:
Razor Sharp Ultra-Definition Finishing Powder to diffuse lines for a flawless airbrushed look.
Urban Decay's best-selling original formula Eyeshadow Primer Potion (full-sized) and Supercurl Curling Mascara to keep her eyes looking fresh.
Lip Junkie Lipgloss in