Although I  love my light skin tone and dark hair (and eyes) and the high contrast, I like "tanning it up" a bit for SS season.
And by that, I mean that I use the following products which have been my helpers for several seasons now:
Xen-Tan Deep Bronze Luxe Once A Week Self Tan
After not having any success with affordable (read cheap) self tanners, I've decided to try Xen Tan, as I've heard a lot of good things about it.  I've got this product with the mitt for £32 which is a bit more than I'd like to spend on  a tanning product, as it's not on  top of my beauty must-haves. But I am very happy that I did get it, the quality is amazing.  It gives a beautiful healthy looking tan, without steaks. To read all the details click here.
Xen-Tan Transform Luxe
If you have fair/light skin and don't want to get a deep tan, you may prefer the Xen Tans Transform Luxe self tanner, as it gives a more subtle effect.  Want to find out more?
Omorovicza Gold Shimmer Oil
As with
I have posted this photo on Facebook some time ago but I thought I'd also mention these products here.
I would call Xen-Tan Deep Bronze Luxe Once A Week Self Tan (review and swatch) and Omorovicza Gold Shimmer Oil (review and swatch) my summer essentials.
Both products are not cheap and I have got them both last summer (from look fantastic) and I consider it to be an amazing investment!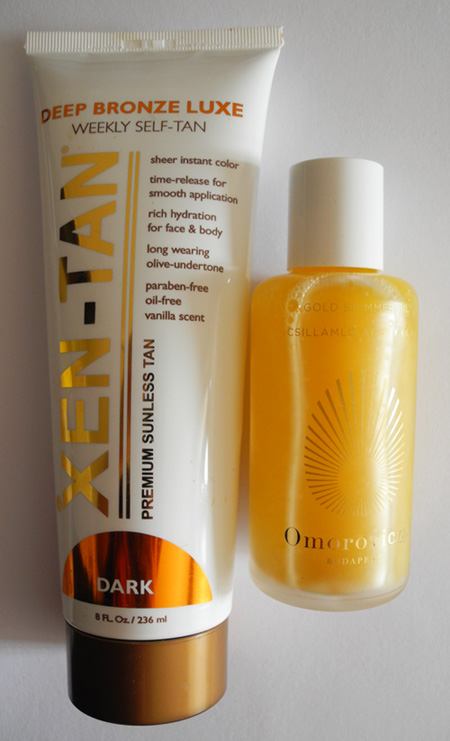 I have dark eyes and hair so a lot of people think that I tan easily and that my skin tone is medium at least. But it's not, my skin is rather pale but not in an 'Dita von Teese' kind of way, and it takes me ages to get some colour.
This is why in summer I like using the Xen Tan  Deep Bronze Luxe once per week on my body to give myself some healthy looking glow. The brand actually has a darker shade which I plan to get next (I have a lighter shade, too. Review).
As for the oil, it smells divine and gives the most gorgeous shimmer in the sunlight. I am addicted!