Although I usually write on other topics today I just wanted to make a post about The Mediterranean Diet. It's super tasty and good for your health. And I really love it! You can just read this post and then  find some recipes that you can try for yourself:)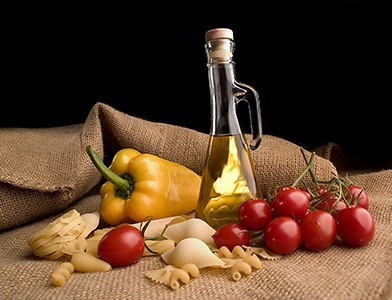 The Mediterranean Diet
The Mediterranean diet is considered one of the most balanced and healhty diets out there. Find out the basics of the Mediterranean diet and how to introduce their components into your daily diet for a healthier lifestyle.
The Mediterranean diet is originally from Italy and Greece. This diet is based on using olive oil for cooking, eating lots of fish, fruits, vegetables and consuming one glass of red wine a day with your meals and 6 glasses of water.
Wine is consumed in small amounts and because red wine is rich in antioxidants, protects against heart disease and blood clotting it is extremely healhty. Drinking large amounts of red wine can cause certain health problems so the recommended amount must be respected.
Olive oil contains vitamins A, B1, B2, C, D, E, K, iron, 85 % unsaturated fatty acids and 15 % saturated fatty acids. Because of it's high content of unsaturated fatty acids and antioxidants it is very beneficial for numerous health problems like: heart disease, colon cancer, ulcer, gallstones, it softens skin, delays the aging process and helps regain skins elasticity.
Fish also plays an important role in the Mediterranean diet.
Oily fish (salmon, trout, sardines, tuna) is very high in Omega 3 fatty acids which lower the bad cholesterol. It is highly recommended that we consume at least two servings of fish weekly.
Fruits and vegetables are high in fiber and antioxidants. We all know that antioxidants are beneficial for the heart and protects us from heart disease, cancer and acts as an anti-aging.
Daily physical activities are highly recommended in order to burn calories and maintain a healthy, active lifestyle. Regular exercises will also prevent heat disease, stimulate blood circulation and harden certain muscle groups.
People who are living their lives following the Mediterranean diet are less likely to develop any heart problems and cancer. So if that isn't enough to make you try it than the anti aging benefits of it's ingredients definitely will.
The Mediterranean diet is meant to stimulate and increase the life span of people by promoting a healthy lifestyle and eating plan.
In many ways the Mediterranean diet is head and shoulders ahead of the standard American diet. It focuses on fresh vegetables, which is something most people could use more of, while downplaying processed foods. (Reducing your intake of MSG, a neurotoxin, and high fructose corn syrup, which aggravates inflammation, will in and of itself have a positive impact on your health).
Studies have shown that following the Mediterranean diet can help:
Reduce your risk of cancer
Prevent diabetes
Improve arthritis
Help people with Alzheimer's live longer
Protect against heart disease
Extend your life
mediterranean-diet-food-pyramidUsing an "exchange list" for foods common in a Mediterranean diet, you can easily add or substitute your current diet with the following list:
8-10 servings (or exchanges) each day of high monounsaturated fatty acid (MUFA), such as olive or hazelnut oil, avocado and macadamia nuts
Limits on fats that are low in MUFA, such as corn oil, margarine, tahini, pine nuts and sesame seeds.
One or more servings a day of dark green vegetables, such as broccoli, peas and spinach
At least one exchange per day of garlic, onions and leeks
One tablespoon or more per day of green herbs, such as basil, cilantro, peppermint and sage
One or more servings a day of red vegetables, such as tomatoes, tomato sauce and salsa
One or more servings a day of yellow or orange vegetables, such as carrots, red bell peppers and pumpkin
One or more servings a day of other vegetables, such as artichokes, cucumber, green beans and sugar snap peas
One or more servings a day of vitamin C fruits, such as oranges, mangoes and strawberries
One or more servings a day of other fruits, such as apples, bananas and grapes
Does the "Mediterranean Diet" really work?
If by "work" you mean it helps you live longer and healthier, the answer just may be "yes."
The Mediterranean diet is touted for a wide range of health benefits, and it's got plenty of research to back up those claims.
But first, just what is the Mediterranean diet? Its chief characteristic is its heavy reliance on vegetables, fruits, beans, whole grains and nuts, but it is also known for moderately high amounts of fish and unsaturated fats,
particularly olive oil; low to moderate amounts of dairy products, mostly cheese and yogurt; a low amount of meat and saturated fats; and a moderate amount of alcohol, ordinarily wine.
In 2003, researchers published a study in the New England Journal of Medicine that followed 22,000 adults in Greece for four years. They found that those eating a traditional Mediterranean diet were 33 percent less likely to die from coronary artery disease and 24 percent less likely to die from cancer than participants who generally ate a different diet. Overall, those following a Mediterranean diet had a 25 percent lower death rate. Like most studies, you can't absolutely establish a cause and effect here, but the results sure sparked a lot of interest.
Then, earlier this year, the same researchers grouped with others across Europe to examine dietary effects outside of Greece. The study, published in the British Medical Journal in April, followed more than 74,000 healthy people aged 60 or older in nine European countries: Denmark, France, Germany, Greece, Italy, the Netherlands, Spain, Sweden and the United Kingdom, between 1999 and 2003.
Researchers rated participants' diets depending on how closely they followed the typical Mediterranean diet. They made one modification:
Instead of just giving points for consumption of olive oil, which is high in monounsaturated fat, they gave similar credit for consuming oils high in polyunsaturated fats, which are more common in the rest of Europe.
Results were more modest but similar to what the researchers found in the Greece study: Participants who followed a Mediterranean diet had a 7 percent lower mortality rate overall than others.
The bottom line? Eat more fruits, vegetables, beans and whole grains and reduce saturated fat in favor of mono- or unsaturated fats. It's familiar advice that has some solid research behind it.
source
I also found this super interesting article about Food Pyramids