This winter I have finished so many body lotions/creams/ butters, and I did want to do the empties feature but all those bottles got on my nerves, and I threw them away. However, I will share about one of my favourites – The Scottish Fine Soaps Company Tangled Rose Body Butter.
I actually bought it because of the name, regular readers will know that I am obsessed with rose scented beauty products, and even tea and coffee with rose!   I also really liked all the products from the Scottish Fine Soaps Company that I have tried in the past so had high hopes for this body butter.
And it is nice. The scent is really lovely, it is described as "roses, amber, cedarwood and a hint of raspberry". I also liked the texture and the formula, it is one of the few products which did make a difference. My skin is very dry and in winter it gets flaky and can even burn, and this butter definitely made it softer, smoother and nicely scented so I loved using it twice a day. With my very dry skin, I did not find the texture to be greasy or oily it was just on point. Not too thick but also not too runny which I'd hate.
I have to point out that the product contains paraffinium liquidum as a second ingredient but I have noticed that some of the other body products to do. And while I wouldn't use it on my face, I don't mind using it on my body.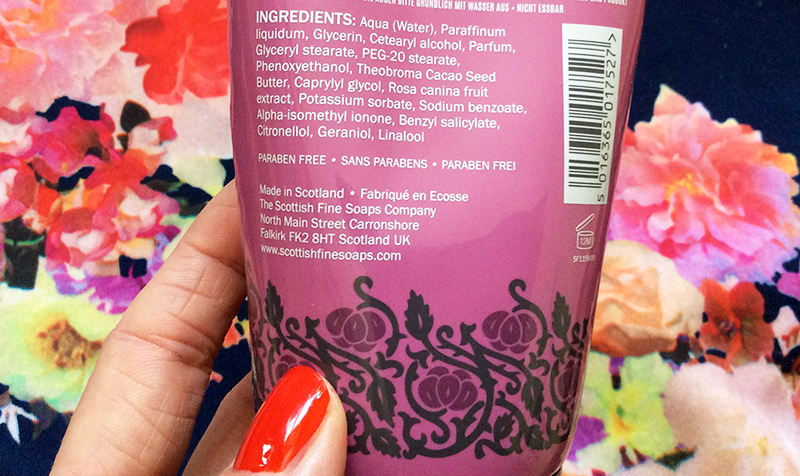 The nail varnish is, of course, this one. And I have used my flowery top for the background which I just can't get enough for Spring.
The price is £9.50 for 200ml from Amazon and Amazon UK.
Speaking or rose scents – this is currently on my wish list Atelier Cologne
Rose Anonyme Cologne Absolue  from Liberty or Sephora.