We get to see the new palettes all the time, and, to tell the truth, I personally rarely get excited about any of them. But today I want to show you the one that I really like.
And it's  the Too Faced The Chocolate Bar Eye Palette.
I am a huge fan of Too Faced eye shadow palettes and this one looks amazing. Although I prefer luxury design, over cute,  I love the shades selection. I think I need this in my life.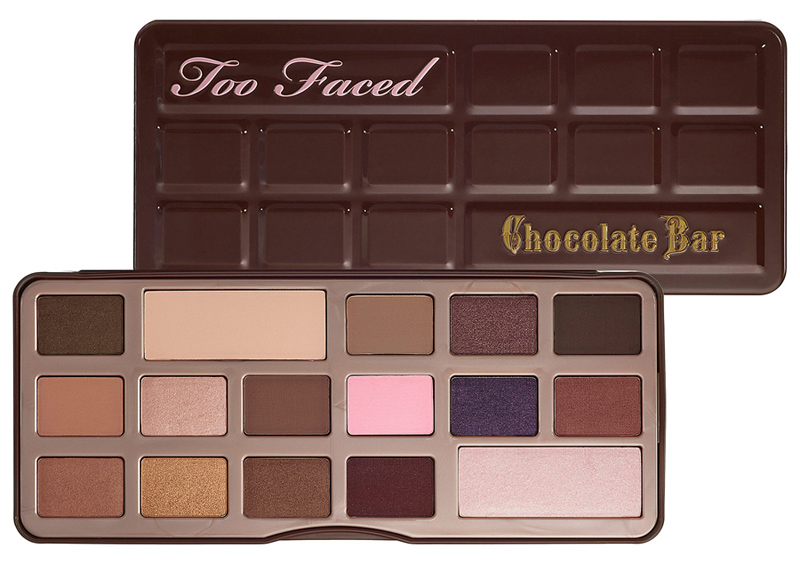 So what's inside? 0.03 oz x 14 Eye Shadows in Gilded Ganache, Milk Chocolate, Black Forrest Truffle, Triple Fudge, Salted Caramel, Marzipan, Semi-Sweet, Strawberry Bon Bon, Candied Violet, Amaretto, Hazelnut, Crème Brulee, Haute Chocolate, Cherry Cordial
0.10 oz x 2 Eye Shadows in White Chocolate, Champagne Truffle
There are two new shades of the Sweethearts Perfect Flush Blush
 Peach Beach: shimmering peach, rosy pink, shimmering light golden bronze
Something About Berry: shimmering mauve pink, golden peach, shimmering magenta pink
And five new shades of La Creme lipsticks:
Taffy, pink marshmallow nude; Bon Bon, pink papaya; Pink Chocolate, berry brown; Jelly Bean, raspberry red; Lollipop,  violet with orchid shimmer
I love the palette  (which retails for $49 in the USA) and the  Jelly Bean lipstick.