Here is yet another Fall 2011 makeup collection which is actually already available in the US.
Collection includes:
New Smokey Eye Shadow Collection, $36.00
Color: Firefly (silvery taupe), White Lie (sugar white), In A Flash (silver shimmer), Cloves (bronzey brown), Nice Ash (charcoal), Smoking Jacket (black plum), Up In Smoke (black brown), Smokin Hot (matte black), Smolder (matte navy)
I really love their palettes and this one looks amazing.
Exotic Color Intense Eye Shadow Single, $18
These have an interesting flower design, don't you think?
COP A TEAL,Peacock Blue
FIREFLY, Antique Gold Shimmer
NICE STEMS!, Golden Clover
COPPER PEONY, Copper Sun
MIDNIGHT MIST, Midnight Sapphire
PETALS TO THE METAL, Metallic Brown / Blue
FRILLY LILLY, White Crystal Shimmer
POISON ORCHID, Midnight Amethyst
VOILET FEMME,Lavender
ENCHANTED GARDEN,Golden Expresso
MAGIC MUSHROOM, Neutral pink shimmer
NIGHT NYMPH, Black Silver Shimmer
Perfect Eyes Waterproof Eye Liner, $18
Blackened Plum sounds amazing, would love to try it.
PERFECT BLACK, Black
PERFECT PEACOCK, Teal
PERFECT BLACK ORCHID, Blackened Plum
PERFECT PURPLE, Purple
PERFECT BROWN, Brown
PERFECT STORM, Charcoal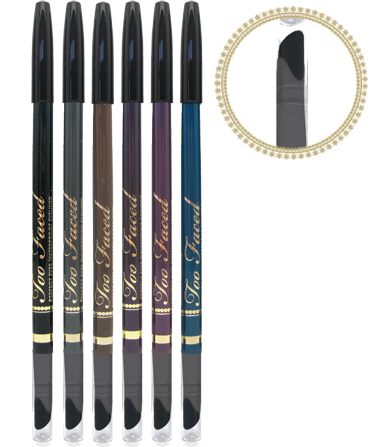 Shadow Insurance in Lemon Drop, $18
New Shadow Insurance Lemon Drop Color Correcting Eye Shadow Primer. This primer has been infused with a" perfect lemon-yellow tone that neutralizes redness and ruddiness while ensuring eye shadow shades are clear and true every time."
Now this sounds interesting, will take a look at it when it comes out.
Size Queen Mascara in Black, $21
" The gigantic, dual-helix brush and keratin-infused, curl-setting formula work synergistically to create magnificent, multi=dimensional lashes instantly!" The brush looks interesting indeed.
Shadow Brush Essential 3-piece Set , $39
"After over 20 years in the industry, Jerrod Blandino brings you a makeup artists tool kit featuring the three, must-have eye brushes that everyone from the professional expert to he beauty beginner needs to build every eye look possible: Liner / Smudger, Lid / Smoker and Crease / Blender." Looks like an affordable price for three brushes plus a girly pink design.
I actually like this collection and would definitely want to have the new palette and the shadows insurance. Although I have to say that it's a bit strange that this collection is already available.