Ok, I've been meaning to write this review for ages. I've actually bought the Black Palette palette just after this post which I've written back in September.
While almost everyone was crazy about the Naked palette ( it's nice but to call it the ultimate palette, are you serious?!) and a lot of people were crazy about the NYC palette (which I actually got but don't even use; read my review + swatches)  I was in love with the Black Palette. Some people who's opinion I trust didn't like it that much so I  had some doubts for a while but then I've decided to go ahead and buy it.
You know, black is my favourite colour and I also love silver but for some reason I have very mixed feelings about the package. But I guess I can't complain because I've got 6 eye shadows, eye liner and primer for £23. I guess I'd love it as a teen but now I want something more elegant…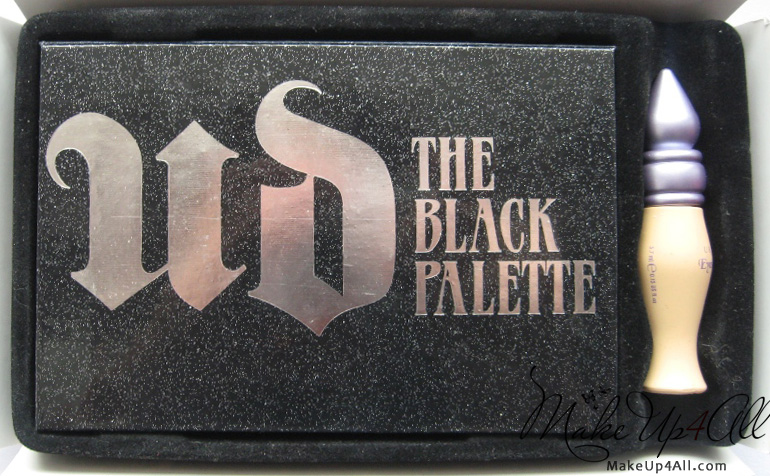 You know what?! I wasn't disappointed! It was just what I was hoping for. I really loved  5 shades out of 6. The only one which was a  miss for me  –  the green one which is called Libertine. Not that it's bad, it's just not as defined as the other shades and you can't really tell that it's green when it's applied on the eye lids.
The other shades are really pretty:
Black Dog- matte black

Barracuda – black with silver

Jet – black with purple

Sabbath – black with blue

Cobra – black with gold

(Libertine – black with green)
The quality of the eye shadows is
very nice and I am VERY happy that these are not so shimmery as most UD eye shadows, I hate when the eye shadows are too shimmery or when they have chunky glitter which falls all over your face.
Do you need it?
I am personally very happy that I've got the Black Palette because I think it is nice to have the dark eye shadows in one palette and I just like using dark eye shadows from time to time.
It is also very useful if you love smoky eyes but don't like when they are jet black.
These also make great accent colours which you can match with the lighter shades from the same colour family.
I think it's a great value for money although I know that a lot of people disagree. These remind me of NARS Night eyeshadows (Which are amazing. Read my review and swatches of Night Clubbing here. This shade looks similar to Cobra) collection so I though that'd be a nice way to save myself a lot of money.
This palette is also very useful for me, as I do makeovers from time to time, and it's necessary  to have some dark eye shadows so it saves a lot of space in the kit I am taking with me.
But if you like neutral eye shadows, never do smoky eyes or like luxury cosmetics (this particular set doesn't look that luxurious) this is probably not for you. But your younger sister or  teenage daughter may appreciate it!
As you can see I have mixed feeling about the package (which is not that important) and I don't like the green eye shadow(which IS important) but everything else is great, in my opinion, and I am happy to have the Black Palette in my collection.