I have to say that I really like this new Urban Decay Fall collection. I am sure that fans of the brand are very excited about it.
The most exciting item is the 15th Anniversary eye shadow palette ($55) of course. It's in a beautiful gunmetal box with a purple UD logo on top.  All 15 shades are new and exclusive: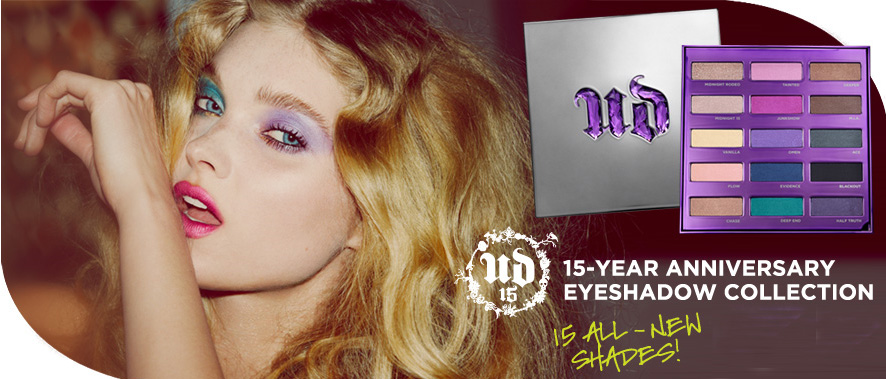 Deeper (deep shimmery golden brown), M.I.A. (soft shimmery dark brown), Ace (dark gunmetal shimmer), Blackout (darkest, most saturated black), Half Truth (shimmery smoky purple), Tainted (pale matte purple with golden shimmer), Junkshow (bright pink w/fuchsia shift), Omen (shimmery metallic bright purple w/blue shift), Evidence (deep metallic blue), Deep End (bright teal shimmer), Midnight Rodeo (medium metallic brown w/silver and gold glitter), Midnight 15 (oyster pearl w/silver glitter), Vanilla (shimmery white gold), Flow (soft peach shimmer), Chase (metallic bright bronze)
24/7 Waterproof Liquid Eye Liners, $18
Bobby Dazzle: white silver w/iridescent sparkle
Demolition: deep matte brown
El Dorado: yellow gold w/gold sparkle
Perversion: carbon black
Radium: bright blue w/silver sparkle
Retrograde: dark purple w/purple sparkle
Revolver: dark grey w/iridescent sparkle
Sabbath: deep matte navy
Siren: teal w/blue shift
Smog: deep brown w/golden shimmer & iridescent sparkle
Woodstock: hot pink w/iridescent sparkle
Urbanbrow Styling Brush and Setting Gel, $20
Urbanbrow Precision-Tip Brow Tint, $20
High Performance Lash Curlers, $20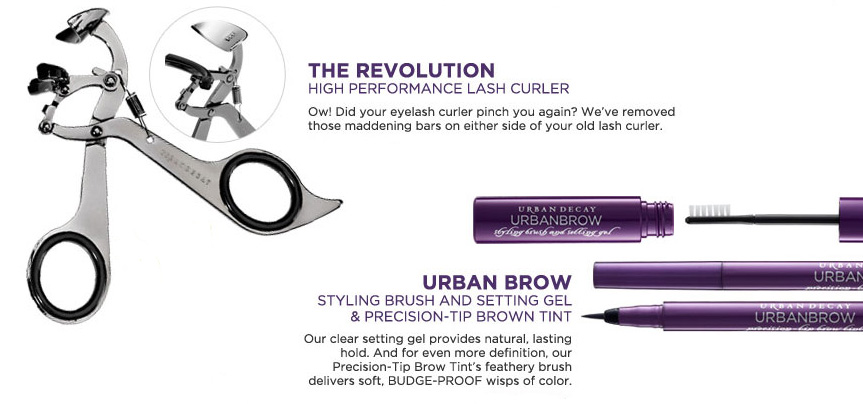 Lush Lash Mascara, Growth Serum Infused Conditioning Mascara, $20
Urban Lash, False Lashes, $15
Black Velvet, Sly, Flirt, Instantfalere
There are also the Sephora exclusive Super-Saturated High Gloss Lip Color, $19
Adrenaline (bright fuchsia sparkle)
Big Bang (bright pink with sparkle)
Crush (hot pink)
Fbomb (bright red cream)
Punch Drunk (bright orange cream)
I would like to have a Siren eye liner, new mascara and both brow products. Well, and everything else, too 😉 I am just not sure why the model has different eye makeup and the the eye lash curlers look a bit scary on the photo, so that would be nice to see them in person.
Hopefully this collection will be here in August/September.