Besides the huge collection that I already wrote about Urban Decay has one more new product! Flavored Body Powder. Yummy 🙂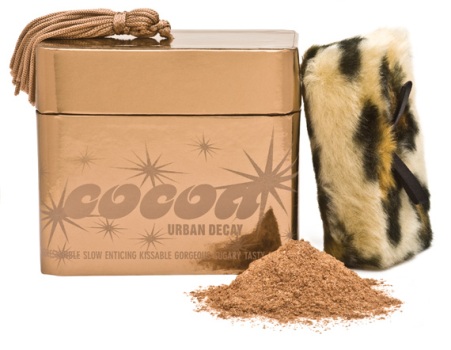 This is how it is described:

"Dust it on and let someone else kiss it away! Sweeten your look or give it a sexy kick by slipping on a seductive sheen. Try them all!.
Flavored Body Powders gives skin a long-lasting radiant glow. Dust on shoulders, face, or decolletage with Urban's signature leopard puff for glistening, soiree glamour. Makes a scrumptious gift for you, your man, or a friend. Powders are sparkly, scented and delicious, just try them and see. Mix and match for new flavors."
There are 3 different flavours:
Honey: smells, tastes, and attracts like…HONEY
Cocoa: a sinfully sweet glimmer, chocolate flavored
Marshmallow: a yummy sparkler, toasted marshmallow flavored
They all are  18g net wt. 0.63 oz, each is $26