When I was passing  the Vichy display the other day the pretty range with roses caught my attention so I've decided to take a look and as a result went home with two products.
One of them is this Essentielles Repairing Hand Cream (50ml) which promises to soothe, soften and nourish skin with moisture. It contains roses polyphenols  and is paraben free.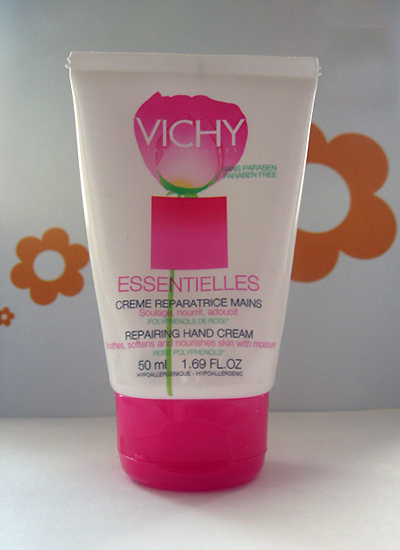 The package is really amazing and girly, it has a pretty rose and the pink elements to it.
But what about the cream itself? I have to say that I really love it!   I have very dry skin, so keep that in mind. I find this cream really nourishing as it promised and it doesn't make my hands feel greasy or oily.  The effect last for quite a long time but I love to moisturize my hands several times per day anyway. This cream also smells divine which is a great bonus.
The price was very reasonable for the products and I believe it was around €4. So I think it's a great products for a nice price.