When I saw Burberry's Lip & Cheek Bloom some time ago, I got really excited, as there is nothing like a good cream blush and lip product two-in-one. Finally they are here!
The texture is described as "airy and bouncy" and the formula – as "sheer and buildable". While the finish is supposed to be matte and fresh-looking.
Don't they just look gorgeous? After week of being sick (seriously, I don't remember when I felt this bad for the last time), this looks like an instant pick-me-up!  And I am sure they'd make anyone look better!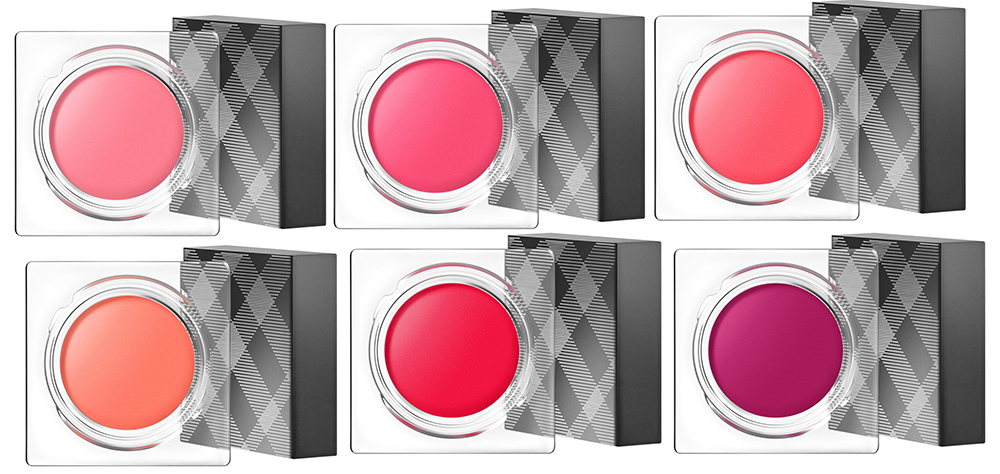 There are six shades to choose from:
No 01 Rose
No 03 Hydrangea
No 05 Peony
No 07 Orange Blossom
No 09 Poppy
No 11 Tulip
It is already available from Nordstrom for $28 which is a good price for a high-end product like this. Later on it will be available from Harrods.
In other news, Charlotte Tilbury just launched six cream eye shadows – Eyes To Mesmerise.
As you can see, Charlotte has the same approach, there are two shades for brown eyes, two for green and two for blue. Those are the best shades that'd make your eyes pop, not that you can't wear any other colours. But Charlotte makes it very easy for her customers.
The shades are:
Cleopatra – a vibrant peacock hue inspired by the mesmerizing Queen of Egypt and Elizabeth Taylor's portrayal of her in the film – Cleopatra…
Jean – a gorgeous, sparkling-pink champagne inspired by the iconic beauty Marilyn Monroe.
Marie Antoinette – an antique oyster gold hue inspired by the hypnotizing beauty of the infamous Queen of France.
Veruschka – a dreamy, minky-mossy golden grey-green that pays tribute to the sultry feline eyes of the iconic model, Veruschka!
Bette – a rich, burnished, amber-gold tone designed to recreate those famous and powerful Bette Davis eyes.
Mona Lisa – a wisteria-chocolate bronze that I designed to recreate the soft-focussed smokey stare of da Vinci's leading lady with that unbreakable a gaze.
So far they are only available from Charlotte's website for £22 but later on also from Selfridges and already from Nordstrom for $32.