I did not write  "monthly favourites" features  recently, so  I will try to combine my winter favourites  in one post. But since I could go on, and on I will be very strict with myself and will only allow 10 things. Wish me luck!
Oh, and happy 1st of March! How is it Spring already?
1 Perfume. 
In winter I really enjoyed trying new fragrances, reading about them, and listening to podcasts about perfumery. I especially loved these episodes about Jo Malone and Frederic Malle. I've acquired a few sample sets which let me try new scents. I had to move a few times in Autumn, and, unfortunately, lost my Turin/Sanchez perfume book (Amazon/Amazon UK) in the process, so will have to get a new, 2018 addition.  I also really want these little samples of Frederic Malle and Margiela magical creations. And a bottle of Le Labo Rose 31 (as seen here).
2. My Reds.
Would this even be a favourites feature from me without mentioning red nail varnishes? My two loves this winter were CND Creative Play Nail Lacquer in Red-Y To Roll, a true long-lasting red, a gorgeous classic, and Givenchy Le Vernis in 06 Carmi Escaprin, a punchy fiery orange based red.
3. Skincare Routine ( on Insta).
I am cheating here a bit, and just mentioning a lot of products but they all are phenomenal. I really have to write detailed reviews on each. But, so far, I can say that I've used them all for months and can see incredible results. Omorovicza Illuminating Moisturiser, Darphin Ideal Resource Light Re-Birth Overnight Cream, Anne Semonin Precious Serum, Lierac Mesolift Fatigue Correction Ultra Vitamin Enriched  Refreshing Serum. I swear by each product!
4. Good Mascaras.
I've tried so many bad mascaras recently so it was a pure joy to finally get incredible ones. And I am talking about  It Cosmetics Superhero mascara (will write about it soon but it is brilliant) and Hourglass  Cautious mascara (review).
5. Dry Skin Saviours (as seen here)
SVR Xerial 30 Cream (Amazon, Amazon UK and Feel Unique) and Weleda Calendula soap (Amazon and Amazon UK). Recommended by a dermatologist, they literally saved my skin this winter. I've used them both up already, would repurchase, and would definitely recommend. I wrote a detailed feature, so feel free to take a look.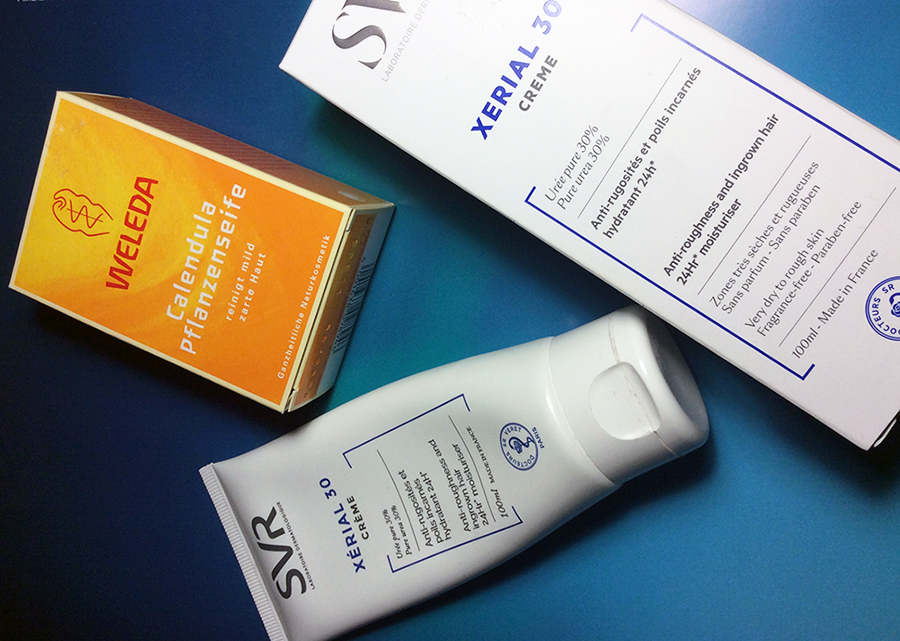 6.  The style: Daria from Wonder Wardrobe and my Silk Shirts
I do not watch that many videos on YouTube but I never miss the videos from Daria. While I know exactly what I like and why, I've still learned a lot from her, she is incredible and I would totally recommend her highly educational content.  As for my style favourites, they have to be my black (shown below; Filippa K) and red silk shirts, those are the items I wear non-stop.
Images: My Insta/Daria's Insta
7. The Crown.
I've been obsessed with the series. My husband was making fun of me but ended up watching series 2 with me over Christmas, as well. The things you do for love. I cannot bloody wait for season 3. Although I really loved Claire Foy, I am excited to see  Olivia Colman as The Queen, as well.  I won't give away any spoilers, and  will just say that it's a fascinating watch from Here.
8. The Podcast: Outspoken Beauty.
I've really gotten into podcasts recently, and my favourite, by far, is the one by Nicola Bonn. If you love beauty and makeup  – it's a must listen. Not only Nicola is the most brilliant host, its feels like she could be your best friend. I love how she makes her guests feel comfortable, and their conversations are always interesting. I really loved the episodes with Val Garland,  second episode with Trinny Woodall, Joddie Kidd, Emma Guns, Jules Von Hep, Sarah Chapman, and many more. And I appreciate the ingredients breakdowns she has with a qualified scientist.
9. Tea. And more tea.
This would not be a winter's favourite if I did not mention tea, right? I've bought so many different types but my favourite has to be Teapigs Calm tea with   lemon balm, valerian and chamomile, and also the cute set with lots of different types. All the tea pictured below was kindly gifted by my husband.  You can get Teapigs from Amazon/Amazon UK.
10. Massage/Yoga
I personally do yoga just as a form of exercise (not a spiritual practice), and I do not meditate but I still find it to be incredible for my overall well-being.  I did Yoga With Adrienne January challenge for the 4th time, and I couldn't be happier about it. I also finally had a course of massages, and that was about time! Honestly, make it your priority to take a proper care of yourself. There is never enough time or money but sometimes you just gotta do it, and your body will thank you for that.