YSL Spring 2012 makeup collection is all about our favourite candies, pastels and girly shades.
Here is what  Lloyd Simmonds, Creative Director Yves Saint Laurent Make-up, says about it himself:
"The gleam of an infinite profusion of dazzling fruit jellies, translucent raspberry and wild strawberry, mandarin orange, melon, mango and persimmon bring a gorgeous flush to the Yves Saint Laurent woman's face. Her smile is as bright as shining sugared drops and syrups: shocking cherry, tangerine, grape and pomegranate, crystallized rose petals, mint and chocolate."
The star product of the collection is Vinyl Candy Palette, £39/ €55
It was inspired by the box of candies.  You get a beautiful pink compact with golden YSl logo with four shades inside:
2 pearly eye shadows: luminous raspberry and lilac subtly infused with pearly pigments.
2 satiny eye shadows: blackcurrant and rose petals play up the magic of chiaroscuro.
Lloyd Simmond's tip: "There are various ways to modulate the intensity of the color: with the brush, to diffuse a vaporous, smoky halo or with the foam applicator tip, to create a lustrous hue, or to mute the iridescent effect".
Ombre 5 Lumieres No13  (House of Fraser exclusive, LE), £39.50/ €57
Voile De Blush, water-based, transparent and moisturizing gel blush £28/ €38
N°1 Voile Carmin: a bright, candy apple red
N°2 Voile Corail: a bursting-with-health apricot
N°3 Voile Rose: a sparkling pink
No4
As this a new product, I thought I'd include what is written in press release:
Color. Water soluble colors give the skin an ethereal hue, sheathing it in a soft, subtle infinitely adaptable veil of color.
 Freshness. The high concentration of water and the gelling agent act together to create a supple, cool, intangible film that assures fresh, long-lasting color.
Comfort. A transparent silicone polymer adds soothing comfort and roundness to the texture; making it glide on and blend beautifully with a finger tip.
Hydration. Highly moisturizing glycerin gives the skin a smooth, resilient aspect.
Radiance. Tiny mother-of-pearl sparkles add delicate radiance.
Mancure Couture No8 (mint and brown) No7  (pink and coral), LE £28/€38
Rouge Volupté Perle,  £23.50/ €32
N0113
No114 Sparkiling Fuchsia
No115
No116 Milky Pink
N°7 Figue Gourmande: a fleshy, carmine red
N°8 Prune Frappée: a rich, frothy purple
N°9 Goyave Sorbet: a daring pink
N°10 Mandarine Acidulée: a radiant tangerine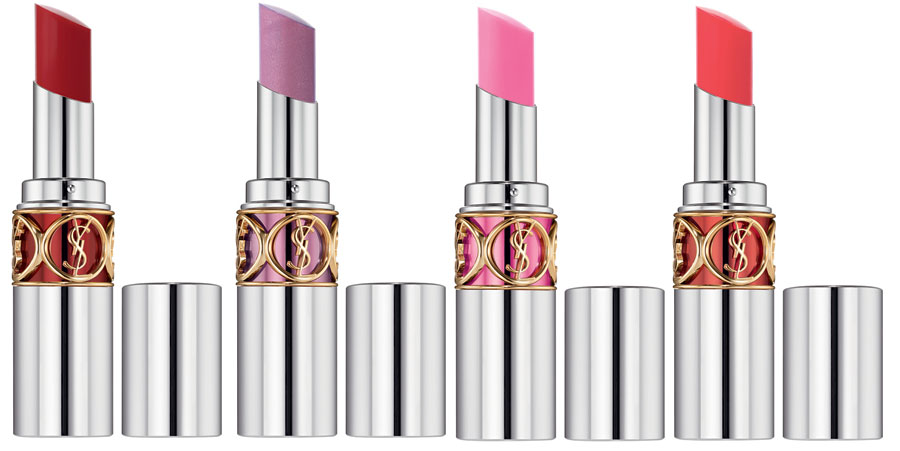 Golden Gloss, £22/ €30
Nationwide launch date 26th December 2011.
I would absolutely love to try the new blushes!
If you'd like to republish this post, please link back. Thank you.