Today I would like to tell you about one of my favourite eye pencil – 24/7 eye pencils by Urban Decay.
By the way, their Fall 2010 makeup collection is already available 😉
I have quite a few different shades but today I will tell you about my 3 most favourite. As you can see, they all are mini size because I love mini sized better. Although I do have some regular sized 24/7 liners.
The shades that I love are:
Zero – creamy black shade

Flipside -vibrant teal with shimmer

Bourbon -brown with golden glitter
Why Do I Love These Pencils?
They are so creamy and it's very easy to use them.
The name 24/7 speaks for itself , they really last forever. One of the best eye liners, I can compare them only with MUFE Aqua Eyes.
I love the ingredients: Jojoba Oil, Vitamin E and Cottonseed Oil.
There are a lot of shades that you can choose from and  UD often makes different value sets so you can save some money and get a lot of liners.
These liners stay on for a pretty long time even on the water line.
The colours are vibrant and bright, plus you get to choose from different textures.
24/7 liners works great for summer and heat.
What I Don't Like:
I wish UD had permanent collection of  mini sized pencils because I like them much more and they are cheaper obviously. Plus it will take you forever to finish the regular sized liner.
If you have sensitive eyes it's better not to use these liners with glitter (bourbon for e.g) on the waterline.
Here are the swatches of all 3 shades, beautiful, right?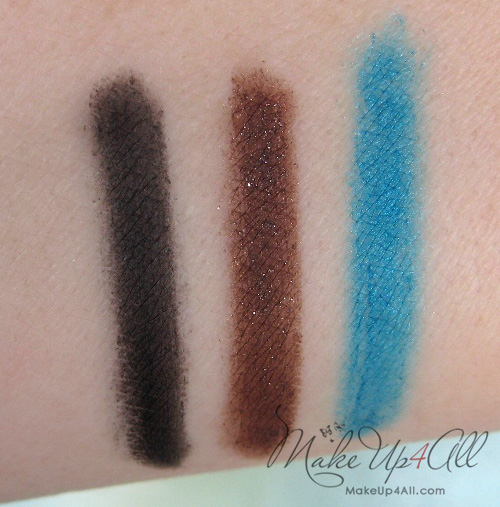 Now I think about getting Electric (bright aquamarine) and Eldorado (gold)  and some green shade but I am not  sure which one yet.
Would I recommend 24/7 Liners?
Absolutely! This is high quality product with a beautiful design. Get them from UD.
So do you like 24/7 liners? Which one is your favourite shade?