Here is a preview of three nail polishes collections from Zoya which they offer this autumn. They are called Designer, Diva and Gloss.  Each collection  is "haute" off the New York Fashion Week  Fall 2012 runway.
Designer Collection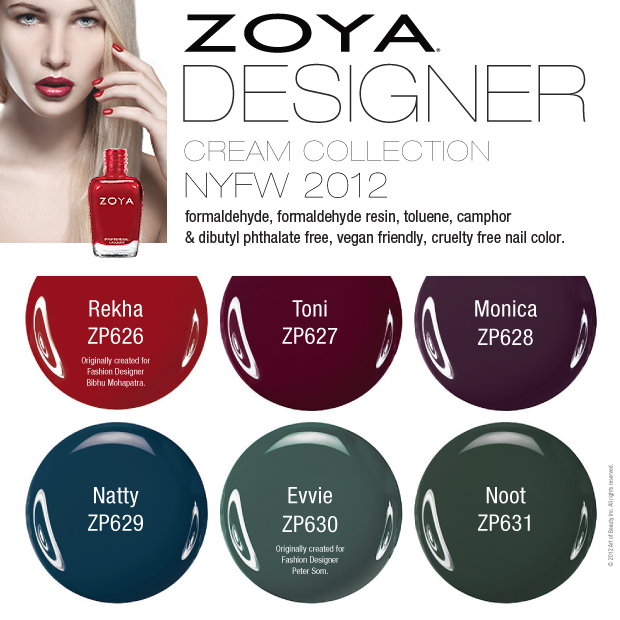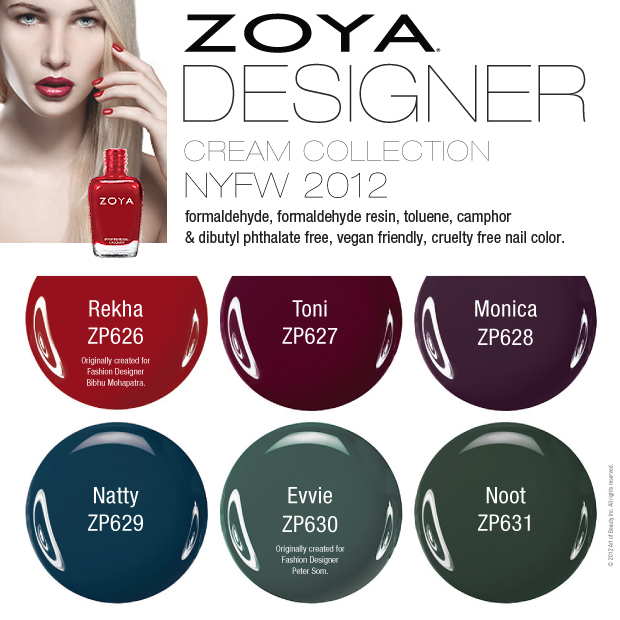 Rekha (ZP626) – Blood red cream (Bibhu Mohapatra custom shade)
 Toni (ZP627) – Dark maroon red cream
Monica (ZP628) – Dark mulberry purple cream
Natty (ZP629) – Smoked navy blue cream
Evvie (ZP630) – Evergreen green cream (Peter Som custom shade)
Noot (ZP631) – Charcoal green gray cream
 Diva Collection
 Elisa (ZP632) – Crimson red metallic
Suri (ZP633) – Royal purple metallic
Song (ZP634) – Egyptian blue metallic with a subtle sparkle
Ray (ZP635) – Pine green metallic
FeiFei (ZP636) – Magic blue foil sparkle metallic
Daul (ZP637) – Magic violet foil sparkle metallic
 Gloss Collection
Katherine (ZP638) – Sheer eggplant jelly gloss, buildable formula (Peter Som custom shade)
Paloma (ZP639) – Sheer berry red jelly gloss, buildable formula
Frida (ZP640) – Sheer teal blue jelly gloss, buildable formula
I'd love to see the jelly nail polishes in action!