Autumn is here, so it's time to look back at summer's most popular posts.
So make yourself some tea and cake, and have a look!
1. Fall 2012 makeup collections: Chanel, YSL, Givenhcy, Estee Lauder and butter LONDON here.
2. L'Oreal Recital Preference hair colour review here.
3. Blair Waldorfs wedding makeup here.
4. Makeup4all Fall 2011 Beauty Magazine here.
5. Tom Ford Makeup Collection for Fall 2012 here.
6. Bright coral and fuchsia lipsticks for summer here.
7. Clarins 3 Dot Eye liner review and swatches here.
8. Preview of Illamasqua Generation Q makeup collection here.
9. Nude eye shadows palettes here.
10. Daniel Sandler Watercolour blushes review and swatches here.
Have a wonderful Autumn! x
I love seeing  what people take with them on a holiday so here is a post about what I had with me.
But first of all, here is a 'holiday postcard' 🙂 I am wearing Illamasqua's Nomad. Not sure about my friend as she forgot the name of the polish.
I did not want to take tones of products with me as I often do so I have chosen the them very carefully.
Sun Protection:
La Roche Posay  Anthelios XL which I used a face sun screen
La Roche Posay Posthelios Hydrating After-Sun Melt-In Gel. This is a genius product and I will definitely write a detailed review about it later.
I also had a Garnier Ambre Solair body sunscreen which I forgot to include, as well as a deodorant and face cream.
Body Products (all are travel sized):
Clarins Smoothing Body Scrub. This is a very gentle finely milled scrub. Will write about it later.
Apivita Bergamot and  Green Tea Shower Gel. The scent is nice and refreshing and it leaves the skin clean and ready for a moisturizer.
Cowshed Grumpy Cow Uplifting Body Lotion. The scent is definitely uplifting and invigorating. This lotion is moisturizing but not sticky. I definitely want to try other Cowshed lotions now.
Hair Products:
I took Apivita Proploine Shampoo and Nourishing and Repairing Mask for Dry-Dehydrated Hair with me. Shampoo is in the Mane 'N Tail bottle as I did not want to take a whole 250 ml bottle. Both products worked brilliant on my hair after the sun and sea. You can read my review here.
Extra Products:
I had only only perfume with me and it was Jo Malone's Blackberry and Bay cologne. Read about it here.
I also had Elemis' Pro-Collagen  Advanced Eye Treatment which I also plan to write about later.
As for the makeup,
I know that we all love to buy makeup and beauty things. I am always curious what products people get for themselves. So here are the last 10 products that I got for myself and some of them are not even here yet!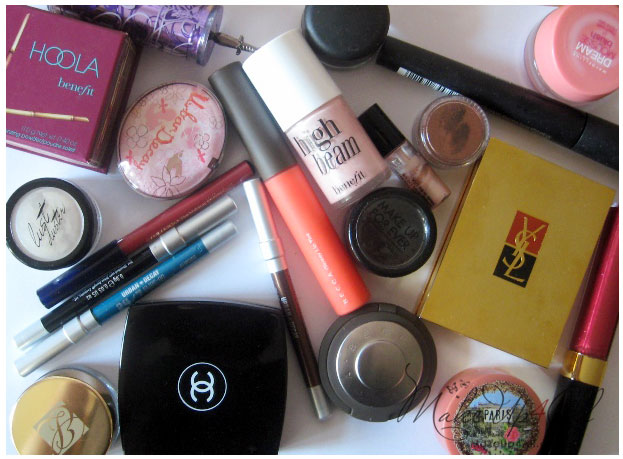 This is not really the photo of those things but you can see Frappe lip tint by Becca and Shiseido Lip Pencil.
Becca Glossy Lip Tint in Caipirinha
Becca Glossy Lip Tint in Frappe
Becca Jewel Dust Pigment in Asrai
Illamasqua Nail Polish in Alarm
Shiseido Eye Pencil in Moonscape
Shiseido Lip Liner Pencil