I LOVE Benefit holiday sets and I get at least one set every year. This time I plan to get The Big 10 and maybe the lip gloss set, too.
These sets are available at Sephora right now but I would assume there will be more sets in the future. I'm Glam…Therefore I am, Ticket To Glossytown and Crescent Row Se will be available in the UK.
The Big 10, $32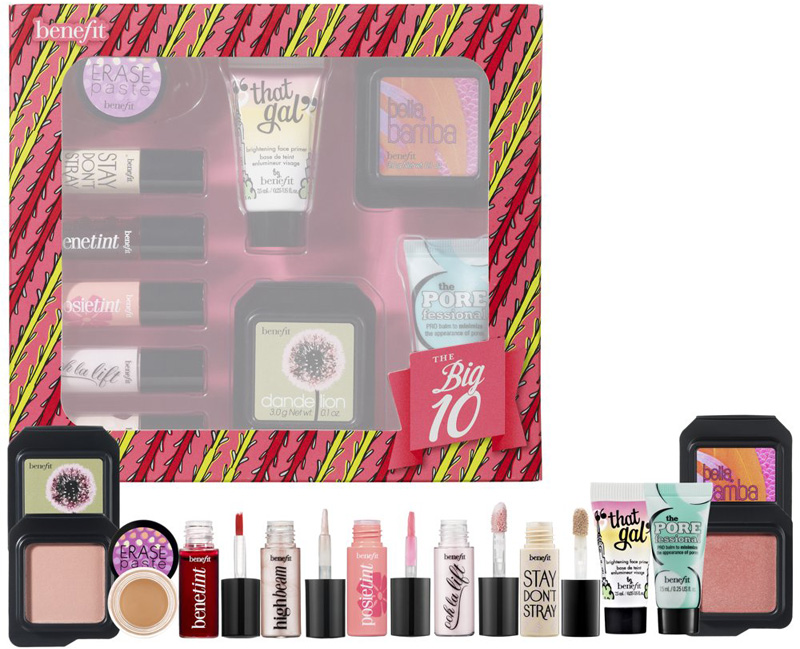 0.1 oz Dandelion (soft pink), 0.11 oz Erase Paste in No. 2 Medium, 0.08 oz Benetint (rose), 0.08 oz High Beam (luminous pink), 0.08 oz Posietint (poppy pink), 0.08 oz Ooh La Lift, 0.08 oz Stay Don't Stray, 0.25 oz That Gal, 0.25 oz The Porefessional, 0.1 oz Bella Bamba (watermelon pink)
This set includes several products that I haven't tried yet but really want to so I can't wait to get it!
Ticket To Glossytown, $24 or £19.50/€29.50
6 x 0.1 oz Lipgloss in So Frisk Me (gilded berry), Nudie-Tude (goldspun twist), Spiked Punch (vibrant coral), Kiss You (clear fuchsia), Life On The A List (bubble gum pink), Foxy Lady (diamond rose)
I'm Glam…Therefore I