Tag: Emma watson for Lancome
Lancome just launched the new gloss called Gloss in Love with twelve shades to choose from. We are promised 6 hours of moisture and smooth, line-free vinyl lip look.
The promo is very girly and fresh, the face of the line is Emma Watson.
All the glosses are divided into family colours with 200 Just Strass which, a  Clear Shimmer Top Coat with Irredescent Glitter.
The other shades are:
Browns
222 Fizzy Rosie – Nude Brown with Golden Shimmer
351 Lily en Lame – Mauve with Irredescent Sparkle
 Oranges
144 Glittermania – Bright Pinky Coral with Golden Shimmer
146 Peach Show – Light
Besides the new Armani and Guerlain lipsticks which are launching for Spring 2012 we will be getting  new lipsticks from Lancome and Dior.
The new lipstick from  Lancôme's is called  Rouge in Love and is described as a long wearing one with a 'featherlight texture'. The face of the line is Emma Watson.
The shades are divided into three styles:
Jolis Matins: Prêt à porter colour; fresh and wearable to bring out your playful side.
Boudoir time: Vibrant and on-trend; chic colours you can wear day-to-night.
Tonight is My Night: Rich and sexy shades for your transformation into a seductress.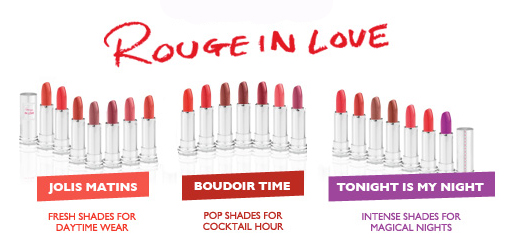 The price is £21/$25 The lipstick is already available. There are 24 shades.
As for Dior, the new lipstick is called