I have the details about how you can re-create the looks of Zooey Deschanel and Christina Hendricks at Emmy's 2012 which were created with Hourglass Cosmetics.
 Christina Hendricks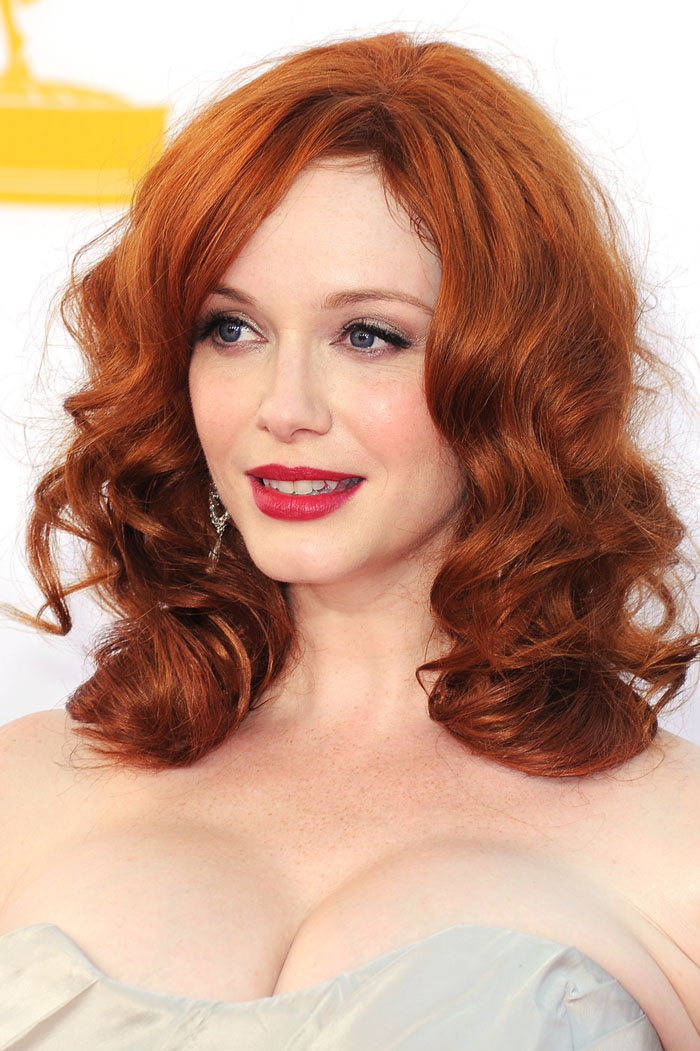 Makeup by Vanessa Scali
"I was inspired by the soft, feminine look of the dress (Christian Siriano) and its cool, shimmery neutral color against her skin. I kept her face soft and romantic, but added contrast and strength with a bold lip color."
Complexion
Vanessa began by using Hourglass No. 28 Primer Serum.  She then applied Hourglass Illusion Tinted Moisturizer in Shell – the formula is effortless to apply and made her skin look natural and flawless. Hourglass Hidden Corrective Concealer was applied wherever necessary.
review and swatches
 Cheeks
Hourglass Aura Sheer Cheek Stain in Flush was applied to the apples of the cheeks blending outward to the cheekbones.
review and swatches
Eyes
For definition and intensity, she lined her eyes with Hourglass Calligraphy Liquid Liner in Ebony at the base of the lashes and on the inside top rim of the eye.
review and swatches
Using the lighter shade from Hourglass Visionaire Eye Shadow Duo in Gypsy, she swept the color from the lash line to the eye brow. Then, she used a touch of the deeper shade blending it well, from the lash line to just above the crease and swept past the natural outer corner to exaggerate and elongate the eye. This color continues very subtly under the bottom lashes.
review and swatches
She finished the eyes with lush, flirty lashes – Hourglass Film Noir Full Spectrum Mascara was used all over the lashes and Hourglass Film Noir Lash Lacquer concentrated on the center of the lashes.
Lips
She gave Christina a bold, strong lip with Hourglass Opaque Rouge Liquid Lipstick in Icon.
Zooey
So did you watch Emmy's Awards? What was your favourite dress? And what about the makeup look?
I actually do have some 'get the look' details for you. And here is the first one about Amanda Peet's makeup.
The makeup is by Amy Nadine  which , according to her, was inspired by the Calvin Klein dress.
So here is what Amy has to say about the look:
Face
"I first prepped her skin with Lancer Rx Nourish moisturizer, Rodial Dragon's Blood eye gel and Dior Lip Balm. Then I spot treated around her nose and chin with Iluminaire Concealer Foundation in Florentine Fair and added a light layer of Le Metier de Beaute Foundation #5.
Cheeks
For a sweet pink flush, I stippled and swirled Kevyn Aucoin cream blush in Pravella only on the apples of the cheeks with a Cozzette S100 Angled Blush Brush.
Eyes
I first framed her eyes by lightly filling in her already full brows with Dior Brow Styler in Universal Brown.
I created a light