I just made  a post about MAC face charts for Halloween and now it's time to think about special products created just for Halloween! You can get yourself some and make a great present to your friends. And I am talking about Lush of course! 😉 This products are already available here at Lush
Pumpkin Soap $5.95, 2.5 oz.
Our spicy Fall soap warms you up when you're chilled to the bone – limited edition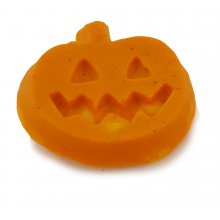 This limited edition soap is pumpkin-colored and shaped affair with a scent borrowed from our lovely and rejuvenating Spice Curls. So endearing that the headless horse man has tried to steal it for himself to wear around town! It's only around for Halloween so get yours before All Hallows Eve.
Magic Bath Bombs $6.95, 6.3 oz
Marjoram and rose conjure up vitality and prosperity – Limited Edition
If we told you that there was a surprise inside this treasure, it wouldn't be a surprise any more, now would it? Magic is a 14-sided bomb that turns your bathwater a deep sapphire blue. Seen from the top, it's a hexagon, or 'hex' bomb, with a blend of marjoram and rose in the shell to dissolve anxieties. Then, as the water changes color, basil and peppermint oils swirl into your tub to bring you growth, vitality and energy. When the sprig of parsley inside floats free, prosperity looms.
Witches' Ball Bubble Bars, $5.95 3.5 oz
A bubbling cauldron with a magical blend of reviving herbs – Limited Edition
Clear mental blocks with this mystical bubble bar filled with rosemary, sage, peppermint, frankincense, myrrh and benzoin. Deep fuchsia like the very edge of sunset, Witches' Ball is a bewitching mixture studded with star anise seedpods, cloves, blackcurrants and cranberries. Bathe in its brew of essential oils as often as you can before it disappears at the end of the year, making resolutions as you bathe.
Ghost Shower Gels and Smoothies $16.95 – $25.95