I am not sure about you, but I've spend pretty much all my lunch break looking at the photos from the Golden Globe 2013: dresses, makeup, hair and makeup.  To tell the truth, I always do that after an event.
Here is actually the makeup breakdown for two most gorgeous actresses – Emily Blunt (I am very lucky to get the details about her makeup quite often; that makes me happy as I love her a lot) and Jessica Alba.
Ambient Lighting Powder in Radiant,  available in five more shades. Will be a part of the Spring collection.
Both wore Hourglass Cosmetics, including the new   Ambient Lighting Powder, and they could not make a better choice!
Emily Blunt
Golden Globes nominee ( for Salmon Fishing In The Yemen) Emily was wearing gilded dress by Michael Kors.  According to her makeu-up artist, Jenn Streicher, she wanted "smoky eyes paired with soft pink lips that echoed her Lorraine Schwartz ruby earrings."
So here are the products that Jenn used:
 Skin
Jenn began by using Kate Somerville Quench Hydrating Face Serum, La Mer The Moisturizing Soft Cream and La Mer Eye Concentrate.
She then primed the skin with Hourglass No. 28 Primer Serum, and followed with Hourglass Illusion Tinted Moisturizer in Ivory.
Hourglass Illusion Tinted Moisturizer in Ivory Review and Swatches
She used two shades of Hourglass Hidden Corrective Concealer: Fair, a light shade, was used around the nose and as a highlighter, and Sand, a slightly darker shade, was applied under the eyes. Jenn completed the skin by applying the new Hourglass Ambient Lighting Powder in Radiant Light all over the complexion.
Cheeks
Jenn applied Hourglass Superficial Waterproof Bronzer all over the face and neck to create a radiant glow. She then used the bronzer shade from Hourglass Illume Crème-to-Powder Bronzer Duo in Sunset to contour the cheeks and jaw line. The blush shade from Illume was applied onto the cheekbones.
Eyes
She started by lining eyes with Hourglass Film Noir Kohl Eye Pencil in Espresso and softened the line with a brush. Jenn then applied the shell shimmer shade from Hourglass Visionaire Eye Shadow Duo in Gypsy as a highlight on the brow bone and followed with a matte brown eye shadow on the lid.
Hourglass Cosmetics Visionaire Eye Shadows Duo in Gypsy Review and Swatches 
Hourglass Film Noir Full Spectrum Mascara was applied to the lashes to volumize, lengthen and separate them. She then amplified the brows with Hourglass Arch Sculpting Brow Pencil in Soft Brunette.
Hourglass Film Noir Full Spectrum Mascara Review
 Lips
Hourglass Femme Rouge Velvet Crème Lipstick in Edition, a soft
It's not a secret that I am a huge fan of dark but wearable lips. So after looking at the close-ups of the makeup from the MET Gala 2012, I have chosen my favourite looks.
One of my favourites is this look on Lana del Rey, how gorgeous does she look?  Flawless skin,beautiful contouring, impeccable eye makeup and the lip shade is just perfection!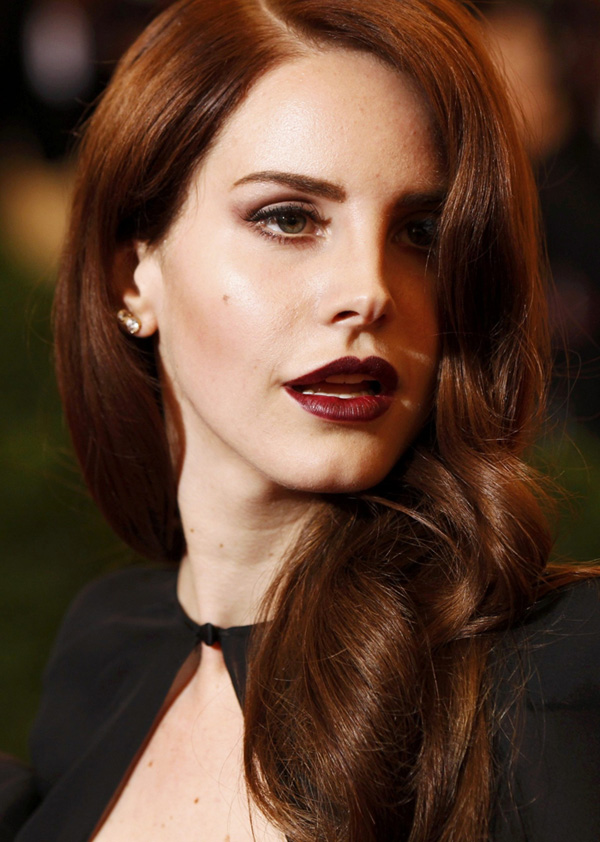 Then there are also Kate Bosworth and Camilla Belle. Kate, who usually wears a 'barely-there-makeup' is rocking that dark lipstick. Bravo, Kate! The brows are also to die for.  Only what's with the hair?!
As for Camilla, her Mak-Up Artist is a genius (I'd love to know who did her makeup) for choosing that lip colour. I assume that is a customized shade, but who knows. It is so unique, bold and really stands out. Such shade could be a total disaster but it worked out amazingly and it definitely catches attention.
And the last two