Tag: Lush Prince Charming
This weekend I've re-organized products in my bathroom and made a list of the  things that I need to pick up, mostly new shower gels and body creams, as I use those up rather quickly. I have noticed that I have five Lush shower gels, so decided to make a lill' round up.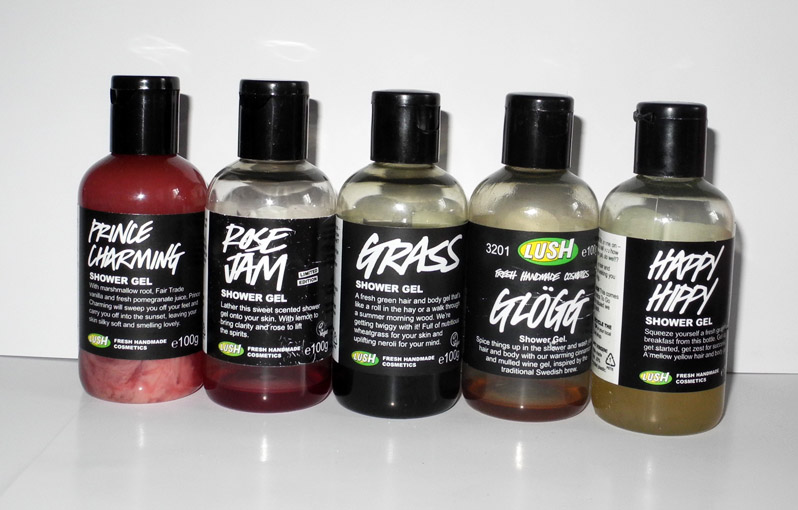 Lush Rose Jam Shower Gel (review)
This is my favourite one. While some people may find it too sweet and sugary, I am a huge fan, it smells just like rose jam and feels lovely on the skin, not drying at all.
Lush Glogg Shower Gel (review)
The other seasonal, LE one, which I really love, it is spicy and warm,  exactly what you need during the AW season.
Lush Prince
I have a thing for Lush shower gels, and I just had to get their new offering for VDay – Prince Charming (£4.65 for 100), which I have already mentioned here.
This scent is pretty awesome actually. Although my  personal favourite is their Rose Jam, which a lot of people may find too sweet and overpowering, I love this one a lot, too.
Lush describe it as "sweet and floral, yet zingy and refreshing", and I totally agree. It is a blend of marshmallow root, Fair Trade vanilla and fresh pomegranate juice, and it  smells delicious!  It is more subtle than it is in the bottle. In fact, my male friend tried it (I may forced him), and he actually had to