I am on a mission to find a nail polish that I want to get for myself, as it's been a while since I've bought any. And here are some new launches that caught my attention.
Deborah Lippmann Girls collection.
Can't say that I am uber excited colour wise, but you just gotta love the Girls' inspired collection, I think the shades are just spot on and I can almost see each character wearing their "name shade".
HANNAH Hapless Hunter Green, MARNIE Prim And Proper Pink, SHOSHANNA Virtuous Vivid Violet, JESSA Bohemian Burgundy.
This set will be available from 15th January, which is the date of season two premier. In the US this set will retail for $45.
 Nails Inc Bling it on Leather & Skulls
The black leather set has my name all over it, although am not sure I would wear skulls.  I think, I should get it actually. The tan one is also nice. Each  set is £19.
Illamasqua Rubber Nail Varnish
There are
This is a post for the nail polish fans 🙂 Just some  nail polish collections that caught my attention that are already out or will be available for AW.
MeMeMe have four new gorgeous nail polishes inspired by the Runway: 'Seductive' metallic rouge, 'Dignified' metallic purple  'Rebellious' metallic khaki and 'Inspiring' metallic teal. Each is £4.50 and will be available from 26th September.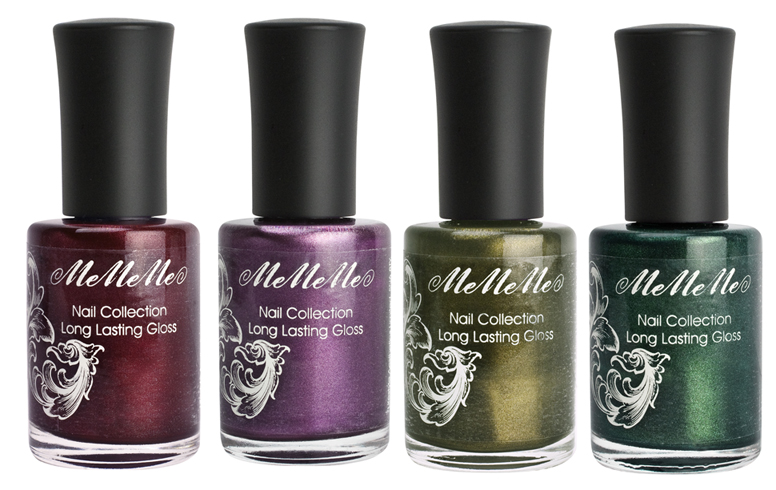 If you are a fan of metallic nail polish – Essie's Mirror Metallics collection is the one for you! There are five nail polishes which are already available:
Blue Rhapsody, a jazzy blue metallic
Penny Talk, an authentic copper metallic
Nothing Else Metals, a carefree lavender metallic
No Place Like Chrome, a memorable silver metallic
Good as Gold, a guaranteed  gold metallic
There are a lot of new offerings from Ciate!
First of all there is a