Best of Beauty Master List. After testing thousands of beauty products, Allure  named their 182 undisputed favorites.  I've picked some items from the list and I will tell you why these products. Part 1 about Makeup products. Part 2 Skin and Hair Care.
Cleanser
Dry Skin
Lancôme Galatée Comforting Milky Cream Cleanser ($30 to $47, depending on size) is a soothing, moisturizing lotion.
Why I picked this item: I have dry skin and I know that Lancome's skin care is really worth trying
Body Lotion
Johnson's Softlotion Extra Care Healing Lotion ($4.99) smells powdery and a touch sweet, like the skin of a five-month-old. A few pumps is all you need to cover your entire body.
Why I picked this item: I LOVE their products and I am using some of them right now. But I never tried this one before.
Hand Cream
Helioplex? In a hand cream? Say no more. Neutrogena Age Shield Hand Cream SPF 30 ($5.99) absorbs in an instant, leaves our hands smooth for hours, and wards off sun spots.
Why I picked this item: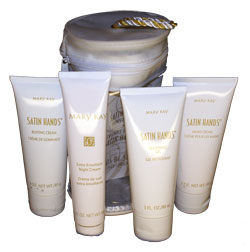 Old version of  Satin Hands Set
New  version of  Satin Hands Set
What is written:

Now you're one step closer to softness. The Satin Hands® Satin Smoothie® Hand Scrub cleanses and exfoliates. It's an everyday treat for hands to leave them feeling smooth and soft instantly. And you'll love the fresh peach scent. It's part of the Satin Hands® Pampering Set for irresistibly smooth, super-soft hands in three easy steps. The Satin Hands® Pampering Set includes