Do you know that you can alredy buy Rouge Coco Hydrating Creme Lip Colour? ($30) I've made a post with a lot of photos and lip swatches on celebs.
Chanel introduces a modern interpretation of classic creme lip colour as an homage to the rich life and legacy of 'Coco' Chanel.
New lightweight lip colour glides on for easy application, and features a Hydratendre complex to help soften, soothe and condition lips, even boosting their ability to hold in moisture, for a plumper, smoother and healthier-looking appearance. A range of wearable shades with full-coverage finishes, from matte to pearl to soft shimmer.
The shades come in one of four color families Roses-Pinks; Reds-Corals; Violets-Berries, and Neutrals-Browns.
There are 37 lipsticks and 29 shades are already available on-line:
MADEMOISELLE
ROUGE ORAGE
LUNE ROUSSE
ROUGE NOIR
BEIGE FELIN
SECRET
CASHMERE
SATIN
EGERIE
LA PAUSA
ORGANDI ROSE
CAMELIA
LEGENDE
MUSE
RUBAN ROSE
TAFFETAS ROSE
ORCHIDEE
GABRIELLE
ROSE COMETE
RIVOLI
PARIS
I already made a post about this lipstick but this amazing blog has some promo photos.
I also found out that there will be 37 shades and each shade will be dedicated to Gabriel Chanel and things that she liked.  As you can see it's a must have for a Chanel fan! This lipstick will be available in March 2010.
Some of the names are:
Mademoiselle
Camellia
Coco
Rivoli
Cambon
Paris
Orange
Beige Fellin
Perle
La Pausa
Legende
Vanessa Paradis  a spokesemodel of Rouge de Chanel
Check out more photos and 2  videos of Peter Philips at work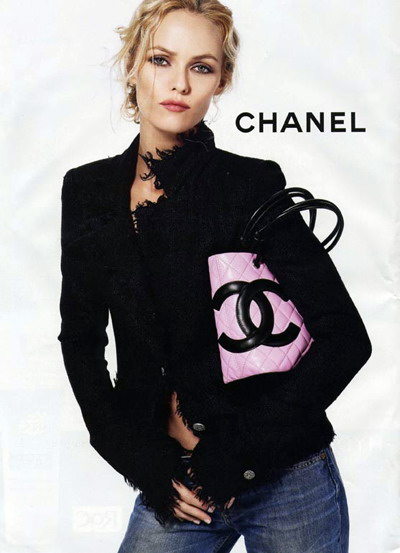 I have great news for you all!  In 2010 Chanel will launch the new lipstick –  Rouge Coco de Chanel! The spokeswoman of the Lipstick will be Vanessa Paradis.
I just loved this post at Beaut.ie that one woman can't have so many great things. They are talking about Chanel and Johny if course.  Check it out and don't forget to vote 😉
На русском языке можно почитать здесь Blog About Beauty.