As I promised I will share with you about my vacation! I will make several posts and will have a giveaway in the end so don't miss it! I'd love to know your opinion and you are very welcome to leave comments and questions. So here we go.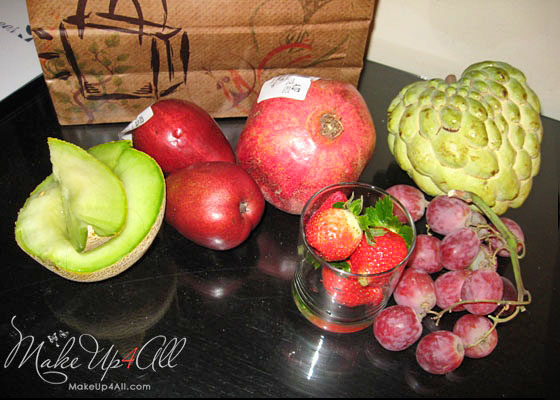 Yummy fruits
I really love to read posts about food and watching photos of it. I love cooking and I love taking photos of the food that I like from different restaurants (not all the time of course). Maybe this is strange to some of you but I truly love doing it and it brings a lot of memories to me when I look through the photos later. But on the other hand, I know that a lot of you are just like me. So here are some photos of food that I enjoyed during my vacation.
This is the best banana shake I've ever tried. I had it every single day. Sometimes I got several! Now I think about buying a blender.
I know that this is not logical to start with the food without the general impression + information and photos about the country but I am really in a mood to talk about food and drinks today. Plus today I just finished watching Julie and Julia. I highly recommend you this movie. I really loved it for a lot of reasons. You'd love it if you like food, cooking and… blogging 😉
I LOVED this movie
I always love reading posts of other girls about food (hi Mona ) and finding out what they like eat and cook. It's such an inspiration for me! So I would love to hear about your favorite dishes and maybe links to your favourite cook books and recipes 😉
As you can see I really love seafood! I would eat salmon, red fish and shrimps everyday!
Mmmmm Lobster
The best mango juice ever. And, yes, there were 4 of us
Crabs
The biggest shrimps I've ever eaten. I want more!!!
Grilled salmon with butter and lemon sauce and French Fries.  S-A-L-M-O-N yummy
Sandwich with shrimps. Gimme more
Salad with shrimps and fresh vegetables
Seafood soup.  I don't like coconut milk in soup but this one was great
Tiramisu for dessert 😉
I hope you liked this post because I really loved writing it! Please let me know if you would like posts like this in the future 🙂