I am really in love with this latest collection from ArtDeco, so sultry and hot!
Very beautiful autumnal shades that every girl needs in her makeup bag. I like everything, but those lips and nails products are  a stand out for me. If you are looking for a great red/vampy shade – I'd totally recommend ArtDeco. Amazing German quality that won't cost a fortune.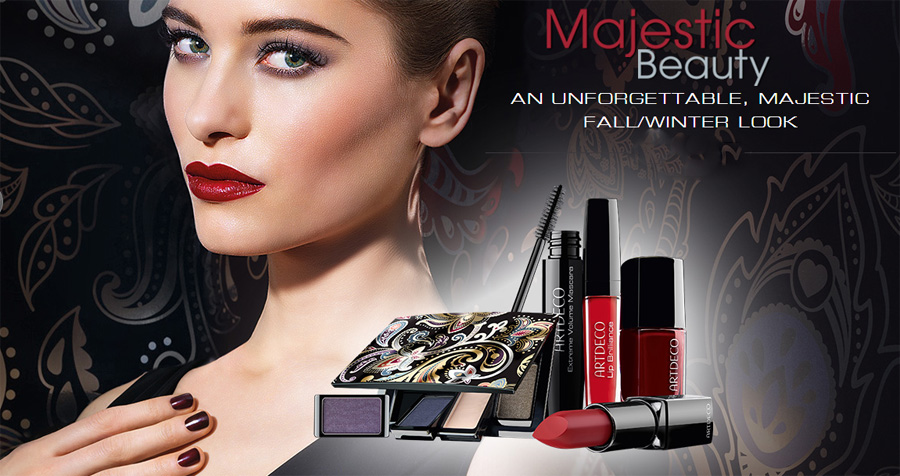 Let's take a look:
Lips
Art Couture Lipstick
204 cream crimson queen
660 velvet graceful rose
Lip Brilliance
04 brilliant crimson queen
57 brilliant purple monarch
Perfect Color Lipstick
29 black cherry queen
39 generous beige
Mineral Lip Styler
48 mineral black cherry queen
Cheeks
Blusher
Cream Rouge For Cheeks & Lips
Eye Shadows
201 historic wood
271 majestic dove grey
508 matt ancient iron
544 matt generous beige
53 pearly mother nature
277 purple monarch
Eye Designer Refill
04 ancient iron
08 historic wood
Extreme Volume Mascara
Soft Eye Liner Waterproof
93 historic wood
95 ancient iron
Beauty Box Quattro Majesctic Beauty
Nails
Art Couture Nail Lacquer
615 couture silk
684 couture lucious red
699 couture mahogany
You can buy ArtDeco from Beauty Bay.