There are so many new products  for the face, lips and eyes, so let's take a look at them all, we will start with the new cheek items from YSL, Marc Jacobs and tarte.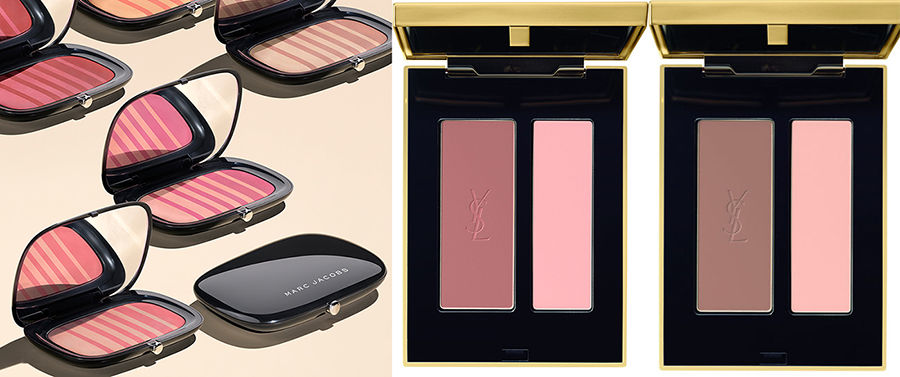 Marc Jacobs Beauty Air Blush Soft Glow Duo, $42 from Sephora
Features two shades that merge together so you can customize your colour; ultra-lightweight formula and  a radiant finish.
FYI "Air Blush is created using a process called soufflage (French for "air-whipped") for a silky-soft, cream-like texture that blends effortlessly with the complexion."
Shades: 508 Night Fever & Hot Stuff – cherry/ deep plum, 506 Flesh & Fantasy – ivory shimmer/ goddess bronze, 504 Kink & Kisses – pale petal/ peachy rose, 502 Lines & Last Night – creamsicle/ deep tangerine and  500 Lush & Libido – petal pink/ orchid pink.
YSL Couture Contouring Palette, $47 from Neiman Marcus
A duo with a matte shade for contouring and a highlighter to illuminate. "Use the deeper shade to add buildable definition on areas of the face you want to slim and define, such as the hollows of the cheeks, jawline, and sides of the nose. The lighter shade illuminates areas of the face you wish to highlight, including the tops of cheekbones, under the brow, and the cupids bow."
Shades: Rosy Contouring and  Golden Contouring
tarte Rainforest of the Sea Kiss & Blush Cream Cheek & Lip Palette, $42 from Sephora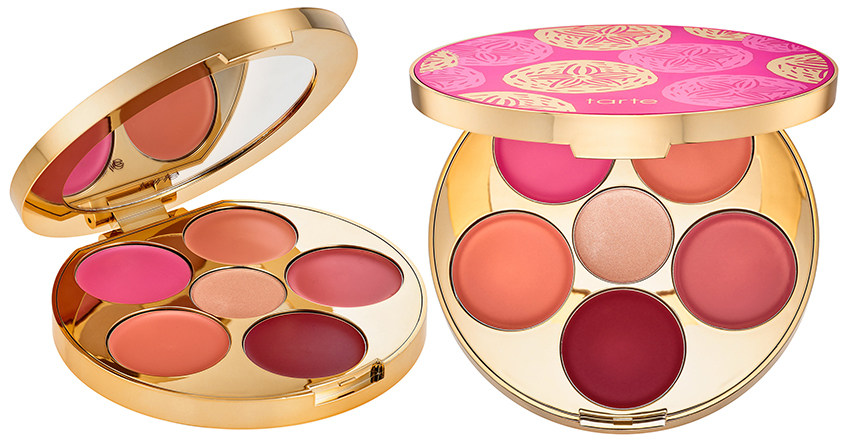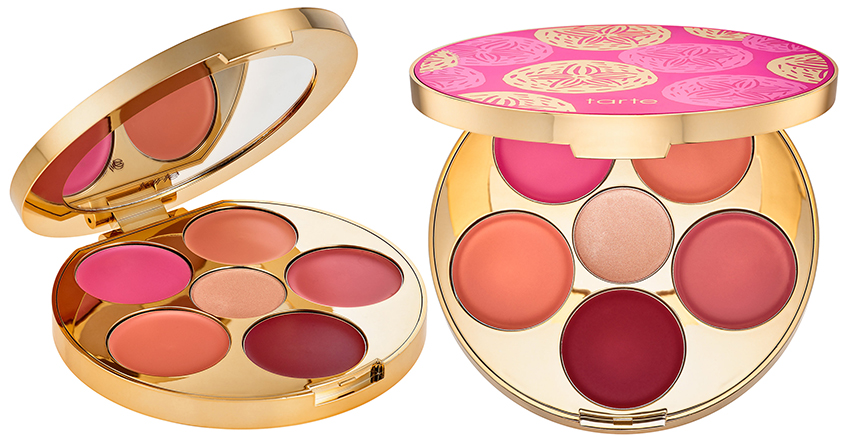 Hydrating, cream formula and six shades that work across skintones so you can create natural-looking, everyday radiance. The full face palette also includes a versatile strobing highlighter, and all shades feature a new creamy balm formula for easy blending.
This palette contains:
5 x 0.11 oz Convertible Cheek and Lip in Smooch (pink), Peck (nude), Butterflies (mauve), Saucy (berry), Tickled (peach)
0.042 oz Highlighter in Cloud 9 (pearl highlight)
Stay tuned for the updates about the new products for the lips and eyes!