I often get asked about the affordable skin and body care.  Is it even possible to find great options without spending too much? Turns out it is!
So, what about my favourite [not expensive] face and body creams? They both are actually from the same brand – Garnier. In fact, I love tonnes of Garnier products, and will probably share about my other favourites pretty soon.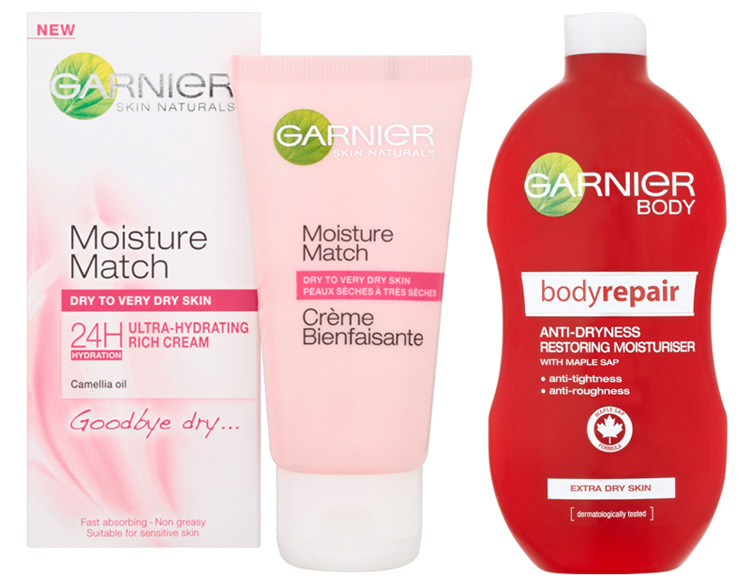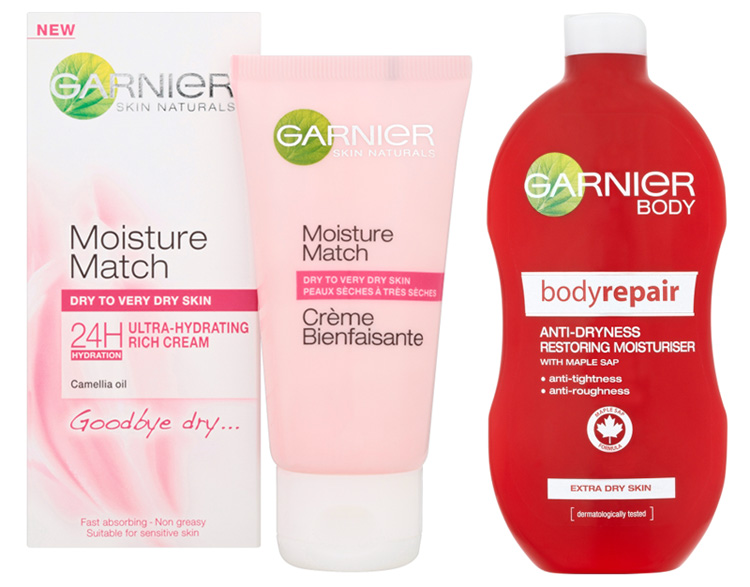 I have very dry skin and not that many products work for me… But these two rock, especially considering the price, I am very impressed!
I am using the stock images since I have just used up Garnier Moisture Match Ultra Hydrating – Goodbye Dry (50ml £5.10) and used up Garnier Body Bodyrepair Anti-Dryness Restoring Moisturiser Extra Dry Skin (400ml £5.20) a long time ago. In fact, I've  gone through two tubes of it, and need to get a new bottle.
The face cream smells amazing  (Camelia oil) and feels lovely on the skin, it moisturises, smooths and softens.  I think that "Goodbye Dry" is  a spot-on name because it is like a relief for "tight" and dehydrated skin in the winter period.  Although it is rich, it doesn't feel greasy and absorbs fast, it really comforts the skin.
I have actually bought this product for two of my friends because they suffer from dryness during winter season, and they loved it, too.
As for the body cream, this moisturiser with  maple sap is the best product for the money I have found, and I have tried a lot over the years. It really helps with very dry skin.  Trust me, my skin is flaky, rough and it burns (I have a certain skin condition). So, if it helps me, I am pretty sure, it should work for people with less serious issues.
I plan to pick up both products next time I am near the Garnier counter. I also want to try their new makeup remover. Speaking of great Garnier products, I've used Olia hair dye on my Mum, and we are both impressed with the results.  The micellar water is pretty cool, too. Review?