Believe it or not, but I have already bought some Christmas presents for my family which is very unlike me, as I usually get everything very last minute.  One of the main reasons for that is that I struggle to keep my presents a secret, and I want to give them straight away!
This is why a new #ChristmasGiftGuide  feature is here for those of you who love shopping for the gifts early. Hopefully, these posts will help you to pick the best offerings from the overwhelming new beauty launches.
In my opinion, you just can't go wrong with a luxury candle. And here is this season's offering from Diptyque.  The most hyped up candle brand. Ever.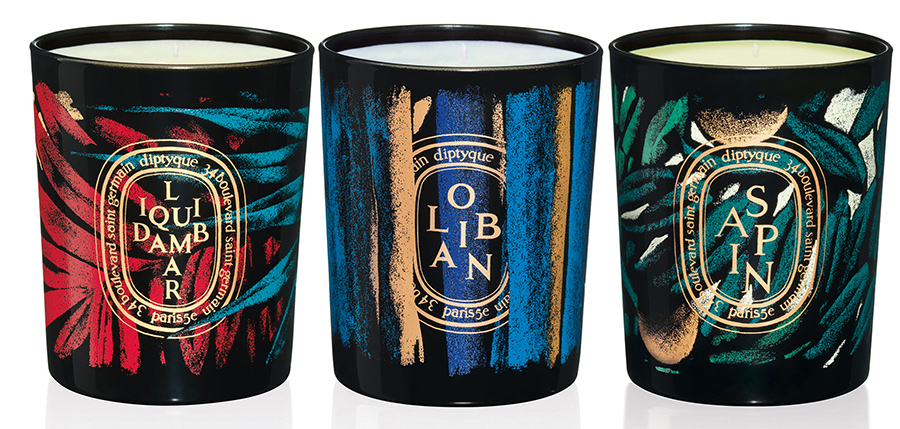 This year's release:
Liquidambar Scented Candle:  The liquid amber of large autumnal tree spiced with nutmeg, cinnamon, and brown sugar.
Oliban Scented Candle: The sweet oriental vapours of incense are accented with fresh notes and balmy tones.
Sapin Scented Candle: Pine resin infused with a hint of mandarin: a familiar yet unprecedented meeting of citrus and woody notes.
Each is 190g with burning time of 60 hours. The price is $70 from Neiman Marcus and Bergdorf Goodman
There is also actually a set of three mini candles, too for $100 here.
But, besides Diptyque there are always so many luxury candle offerings this time of the year.
You can also never go wrong with Jo Malone. There is a set of Vibrant Blackberry & Bay, festive Pine & Eucalyptus and rich Roasted Chestnut for $110 and  a Deluxe Candle in Roasted Chestnut, $250.  It is with with nutmeg, cinnamon and clove, sweetened with soft caramel. Available from Nordstrom.
You can also get a candle for a special man in your life. (I can tell you that mine was very pleased).
And I personally like the look of Oribe Côte d'Azur Scented Candle ($62 from here)
It is described as:
"Awakens with sun-drenched Calabrian bergamot, black currant, and Sicilian orange. The floralcy of white butterfly jasmine embraces creamy sandalwood and crisp amber to create a fragrant experience day and night."
Artisanal, hand-poured candle. Botanical wax blend. Cotton wick.