I was very excited to get my Clarins sets that I've ordered when Feel Unique had a discount so today I want to tell you about the lip glosses  set which is absolutely amazing.
Clarins All About Lips  Lip Colour Collection, £15.30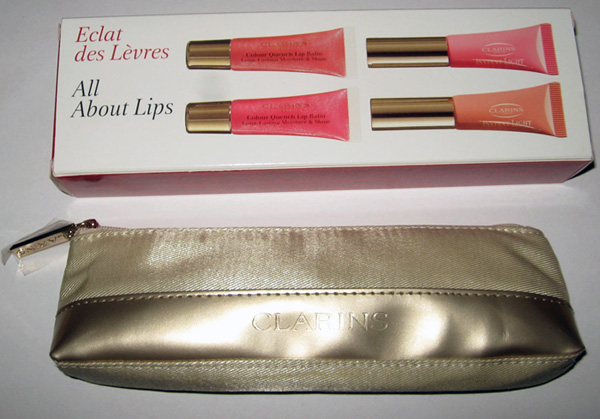 It includes:
 Clarins Colour Quench Lip Balm in 02 Caramel 7 ml
 Clarins  Colour Quench Lip Balm in 03 Rose Pink 7 ml
 Clarins Instant Light Natural Lip Perfector 01 Rose Shimmer 5ml
Clarins Instant Light Natural Lip Perfector 03 Nude Shimmer 5ml
Clarins Pouch
Here is a close up of the glosses.
I have heard so many raves about both, especially about the Instant Lip Perfector and now I can see why. When I tied this gloss for the first time my lips were very dry and chapped but after just several minutes they looked and felt much better! It was actually hard to believe. The gloss has a delicious scent and  a beautiful formula. The colour is  sheer and delicate, perfect for an every day use.
These are definitely in my top products now. And now I also want the shades #2  Apricot Shimmer.
As for the  Quench Lip Balm, it is  a brilliant product, too. Glossy and shimmery,  it looks really beautiful on the lips. It feels very moisturizing and nourishing and smells amazing. It also has a fruity taste.
I am seriously  in love with both glosses and lip balms and am using them all the time now. They just could not be any better!
Here are the swatches. If you want a more natural look go for Instant Lip Perfector but if you love your shimmer – Quench Lip Balm.
I highly recommend this set! Even if you have a lot of glosses/balms, these would be a nice addition to your collection.
Clarins is available from Escentual.com,  Nordstorm,  Sephora, Boots,  Bergdorf Goodman, Selfridges, Harrods…