I am excited to show you these beautiful Long Lasting Waterproof Eyeliners by Daniel Sandler.
First of all, I have to say that I really love the design, it looks very elegant and chic. These are the kind of eye pencils that are a pleasure to use.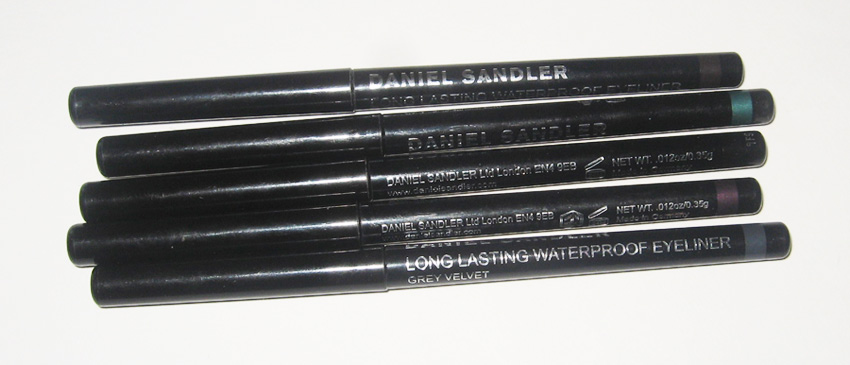 The shades that I have are Black Velvet, Brown Velvet, Purple Velvet,  Grey Velvet and Green Velvet. There is only one more eye liner in this range which is called Blue Velvet.
I love how thin  the eye liners are and that you actually don't need to sharpen them,  it's a great plus if you ask me.
These are actually great to use on the upper inner rim of the eye (which I love doing)  since these liners are so thin. Daniel Sandler eye pencils are also great for the using  as an eye liner  if you are not confident with the liquid or gel one, as it allows you to create a thin (or thick if you want) line.
I also love using these liners to create the smoky eyes; it takes only  a minute.  Easy and beautiful!  Although I do like all the colours, Brown Velvet is now a staple in my own makeup bag and use it almost every day, so that says a lot.
Here are the swatches in the natural light
And with the flash
The other great thing is the price which is only £9.50 (at Look Fantastic). It is like a half price of most liners with the same quality.
These eye liners were a present from Daniel himself which makes them even more special to me.