I have been wearing Diorskin Nude Skin-Glowing Make-Up by Dior (£31), which is a part of their Nude range, for several weeks now so I am ready to give you my opinion.
I love the classic design, it is simple but luxurious at the same time. This foundation comes with a pump which is very handy as you don't waste any product.
I have the lightest shade which is called Ivory. It is a little bit light for me right now but will be perfect soon.
Skin-Glowing Make-Up does give a glowing but not dewy or matte finish which should work both for dry or oily skin. It looks very natural on the skin and if you blend it properly it is very hard to tell that you are wearing anything, Nude is a perfect name for such product actually.
I was amazed that this foundation smooths out the skin (I think that pores are less visible, too) and evens out the skin tone nicely. I find that it gives a medium coverage but can be built up without looking like you have tones of product on.  Plus it feels light on the skin. I personally don't need a concealer with this foundation.
It has a nice smell and it's easy to apply it. Just make sure that your skin is properly moisturized.
Here is how Diorskin foundation looks like on the skin.  I did not blend it out properly so that you can see the finish.
And here is how it looks like on the face.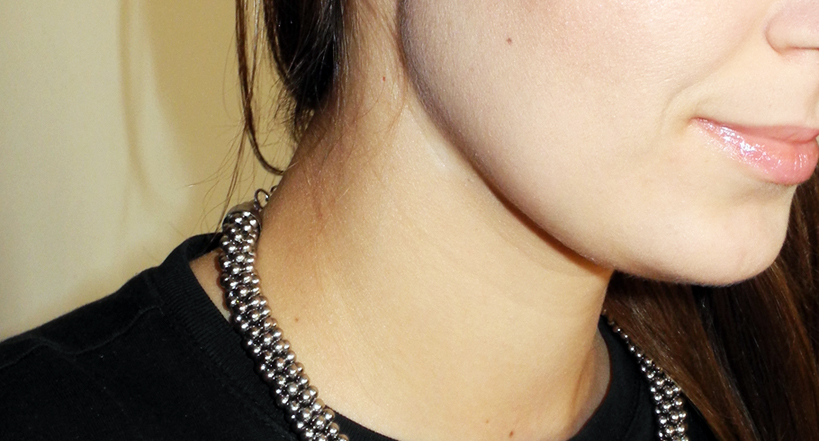 I think Dior did a great job with this their  Skin-Glowing Make-Up and it's  now one of my favourites now. I will be definitely using it in winter.
If you are interested, I have also reviewed a lipstick from the range here.
Dior is available from Nordstrom, Selfridges, Harrods, , Sephora, Saks, Naiman Marcus, Bergdorf Goodman