Today I want to  tell you about the eye products from the Dita von Teese  the Classics collection that  were given by the  Tender Loving Skincare shop, where you can get all the collection.
I have four eye shadows: 503 veuve noir, 512 von fleece, 524 mink and 554 petticoat (£6). And also a Styler in Minuit (£9.75).
I have used a lot of ArtDeco eye shadows over the years  ( I have even finished several shades actually) so I knew that the quality was excellent, especially for the price.  So there  was no surprise here.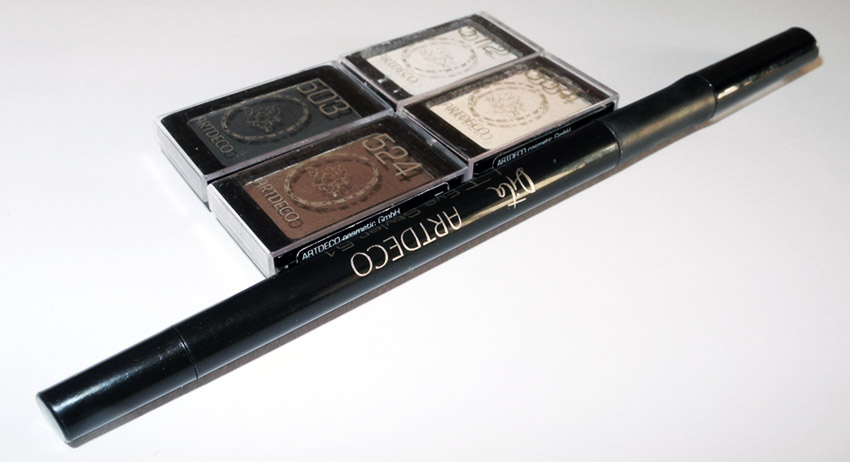 Although these are all matte shades they are not chalky at all, they blend nicely, are pigmented and last for hours on me. I have a white shade (512), an off white which is close to my skin tone when I am not tanned (554), a classic warm brown which works great for smoky eyes (524)  and  a matte black (503).

As for the Eye Styler in Miniut,  I did not expect it to be so good. First of all, it is very creamy and goes not drag the skin but at the same time it is very long lasting. Maybe the most long-lasting eye pencil I have ever tried actually. On me it doesn't smudge or fade  at all… So it is not the best liner for the smoky eyes as it sets and it's hard to blend but a perfect one to use as a liner.
So I would totally recommend it for those who struggle with gel or liquid liner but want a long-lasting product. For something that is under £10, this just could not be any better.  The design is also nice.. What else do you need?
I also have a blush  from the collection so will tell you about it soon.  Meanwhile, you can get other products here with the International shipping  which is £5.