I hope that you remember my post about Elemis holiday 2010 gift sets. So here is the  Skin Brilliance set which includes:
Rehydrating Rosepetal Cleanser 200ml
Soothing Apricot Toner 200ml
Maximum Replenish Night Cream 50ml
Maximum Moisture Day Cream 20ml
This is how amazing the set looks like! You don't have to think about the box and how to wrap it, really every woman would be happy to get such set, it looks beautiful!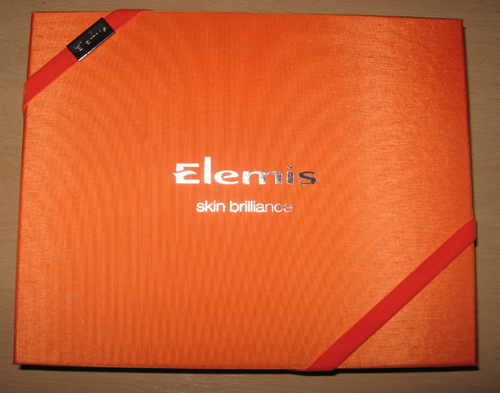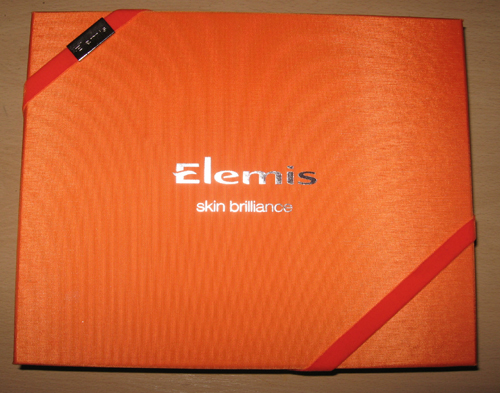 And this is how it looks like inside and my thoughts.
I've been using these products for some time now and  I really like the condition of my skin. It's a pleasure to use all the products and I am happy with the results. I won't get into details because everyone has a different skin type and skin needs but here are just some general thougts: It's amazing that both day and night creams are said to be "with adaptive technology intelligently adjusts to your skin's needs. "
The day cream :
"Provides continuous hydration whilst actively helping to protect against environmental toxins, the lightweight formulation visibly improves skin's condition."
The night cream:
"Provides targeted replenishment, whilst actively supporting the cell's natural regeneration process, this nurturing formulation delivers optimum results while skin's cells are at their most receptive."
Both cleanser and toner smell amazing and are very gentle. I also find the clenser quite cooling and the toner soothing and calming.
These products are Elemis best sellers and the night cream is also an award winner. This set is really brilliant, I only wish the day cream was an original size, not half.
This skin set would be an amazing gift for someone with sensetive and dry skin. It saves you a lot of money and is already in a beautiful holiday gift box. Check out all the details  about the products and find out where you can get your set at Elemis.
I would also recommend you checking out the Exotic Spa Secrets set. I have all the products from it and they are absolutely amazing! I've written a review about the Exotic Frangipani Monoi Moisture Melt already so I will write a review about the other 2 products later.
RRP £49 / worth over £92 / save over £43. If you are in the US you can get it at Nordstorm for $95 (value is $172!).