You are a fan of nail polish and fairy tales? I'm sure you'd love these 2 collections. Wizard of Ooh Ahz by China Glaze and Alice in Wonderland by OPI.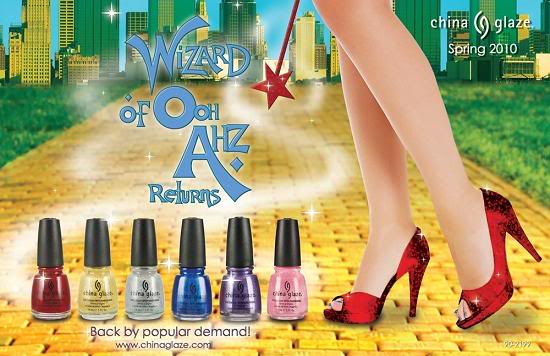 This is a re-promoted collection from 2001. Meet 6 holiday shades with glitter from Wizard of Ohh Ahz by China Glaze collection.
Ruby Pumps, red with glitter
Cowardly Lyin',  gold frost with  golden  glitter
The Ten Man, silver frost with  silver glitter
Dorothy Who?, blue  with silver and blue glitter
C-C-Courage, purple  with purple  glitter
Good Witch, pink frost with   pink  glitter
I can't wait to see Alice in Wonderlan by Tim Burton. And did you know that OPI created a collection which is called Alice in Wonderland? Here are all the details
Off with Her Red! – Hot red
The Red Queen: Cruel ruler of Underland, she cuts off the heads of those who disagree with her. She would rather be feared than loved.
Absolutely Alice – Blue glitter
Alice Kingsley: Beautiful but slightly off-kilter, sees the world differently than most. In the Rabbit Hole, she seeks to write her own destiny.
Mad as a Hatter –  Black with multi glitter
The Mad Hatter: Formerly the White Queen's hatter. Now, he is part of the Underland Resistance and driven to madness by guilt.
Thanks So Muchness! –  Red shimmer
As if the tale was not adventurous enough, one more shade to color your own Underland over and over.
Availability: January 2010
Price: $11
So what do you think about these collections? What do you plan to get?