I know that some of you don't like Sex and the City so don't bother reading this post;)  I already wrote why I like this show : "because of their friendship and because of nice places and clothes". But guess what?! Everyone looks at their clothes and style but I've never seen anything about the beauty and makeup that the girls use!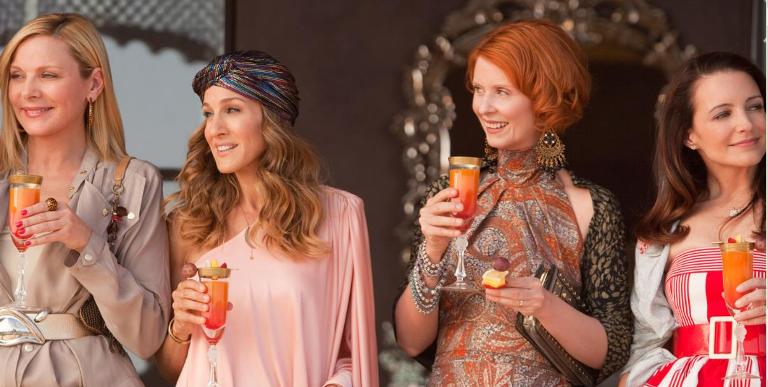 Did you ever wonder what  beauty brands Carrie, Samantha, Miranda and Charlotte use? When I was watching Sex and the City series again (in March) I coudln't help myself spotting different makeup items. So I got a great idea… To make screenshots of all such products! Unfortunately, I came up with this idea only when I was already watching the 3rd season but I remember what brands I saw, so no worries 😉
At the premiere of Sex and the City 2
But I still managed to make some screenshots ! Are you curious? Then find out the answer just after the cut!!!
I like Carrie's makeup most of the time and above is the makeup that I loved from the Sex and the City  2. But do you know what beauty and makeup products she uses? As for skincare – it's Clinique mostly and you can see it several times in the first seasons and as for makeup – her favourite brand appears to be – NARS!
And although they didn't show a lot of makeup it the show, NARS appeared several times and here is one of the photos:
I've also noticed that Carrie uses  NARS Loose Powder (it was on her desk in one of the episodes)
As for Charlotte – I've  seen her using  several NARS and MAC products.
The only beauty product that I've noticed Miranda using was Kiehl's body lotion but probably I've just missed something.
And what about Samantha? Well, I've seen several brands that she uses. And obviously those were Dior and Chanel plus different perfumes and also I've seen some MAC products. You can see some of her beauty products here: S04E8 20:18.
You can also see some makeup and beauty products the girls are using at the beginning of Sex And The City S4E01 – The Agony And The 'ex'tasy. I've spotted Charlotte's MAC Gloss;  Samantha's  MAC lipstick and Dior skincare.
So what do you think? Did you ever look at the makeup items in a film? I do it all the time and I wish there were more makeup and beauty items!
I hope you like this post because I was very excited when I came up with such idea 🙂