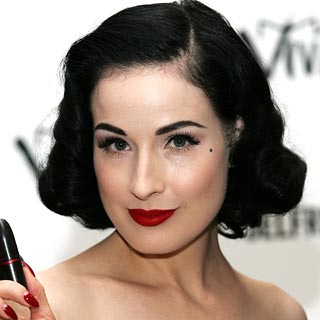 Dita Von Teese twitted(http://twitter.com/DitaVonTeese) about her favorite makeup, perfumes and clothers:
I wore Quelques Fleurs forever, but lately have been wearing Dior's Pasage #4- BUT working on something special fragrance-wise
My favorite foundation is L'Oreal True Match. I use N1. It's Cher's favorite too! 🙂
Sadly, matte lipsticks are becoming extinct, especially in the drugstore. Everything is glossy! I like MAC Ruby Woo.
I am currently writing a beauty book, in fact. It will probably be out this time next year. It's a big project!
I collect 30s/40/50s clothing. but love 40's nail, 50's eye, & fluctuate between 30s,40s,50s hair! But 40's is my fave era.
I was surprised that Dita uses L'Oreal True Match and I would love to read her beauty book. And what about you?