I have got the details on how you can create the looks of   Christina Ricci, Holliday Grainger, Helena Bonham Carter  and Kristen Wiig from BAFTA 2012 using GIORGIO ARMANI COSMETICS.
Christina Ricci
To accentuate Christina's beautiful heart shape face, make-up artist  Sam Bryant applied Fluid Sheer illuminating fluid in 11 just above the cheek bones to add dewiness and lift. Sheer Bronzer in 1 was swept under the cheek bones and onto temples for definition and warmth to compliment Christina's beautiful golden gown. For the final touches Sam added a touch of Sheer Blush in 10 on to the apples of the cheeks for a subtle pop of colour.
Christina's eyebrows are naturally well defined so Sam simply elongated them using Brow Defining Pencil in 2 to create a polished look.
Holliday Grainger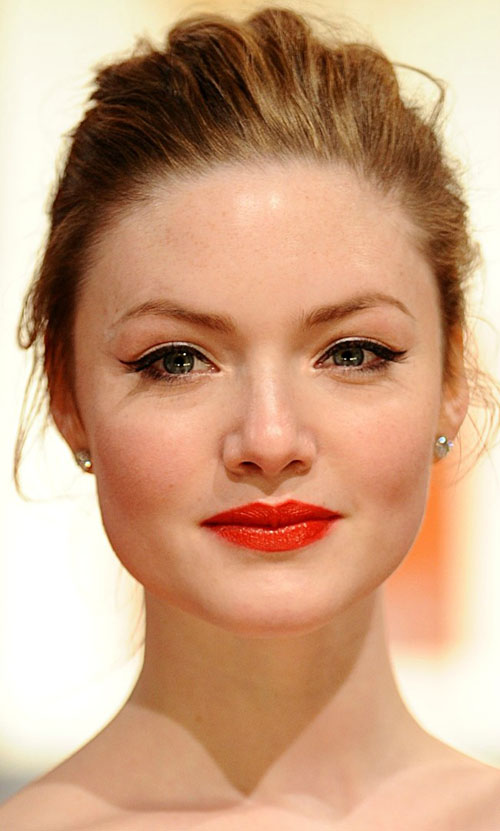 A-list make-up artist Florrie White was used to create Holliday's fresh 50's look to compliment her stunning champagne embellished Armani Privè gown.
Florrie loves the a classic but playful look for Holliday, 'By keeping the skin dewy and highlighted, the lashline defined and adding a pop of colour, Holliday was still very refined but with a modern play with colour.'
After prepping Hollidays's skin with Crema Nera Mineral Prima Lotion, Emma applied a fine layer of Luminous Silk Foundation in 2 over her face and a touch of High Precision Concealer in 2 under the eyes to brighten. Lasting Silk Foundation in 4 was applied over the top of the apples of the cheeks and temples to give Holliday an ethereal bronzed glow, cheeks were given a natural flush with Blushing Fabric Second Skin Blush in 1.
Holliday's large blue eyes were made party proof with Eyes to Kill Intense Eyeshadows. Emma applied shade 11 in the inner corner of her eyes and swept over her eyelids for a soft glow of gold. She then applied a fine line from her top inner lid all away along her lashline and slightly winged it out with Maestro Eye Liner in 1 for the perfect 50's cateye flick. Emma then smudged a little Eyes to Kill eyeshadow in 6 under her outer and lower lashline. After curling her lashes she applied at least 3 coats of Eyes to Kill Mascara in 1 to make her lashes dramatic and long, then combed them through to keep their individual definition.
Holliday's eyebrows were lengthened and defined with Brow Defining Pencil in 2.
Helena Bonham Carter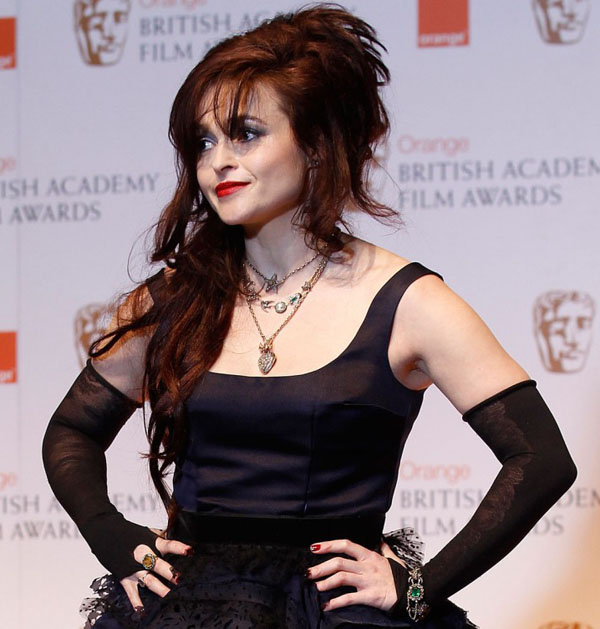 Make Up artist to the stars Louise Constad created Helen's signature vampish look. She applied the make-up artist staple Luminous Silk Foundation in shade 2 with a foundation brush to make Helena's skin glow.
She says 'This foundation is sublime, you don't need any tricks to make this work wonders'. She set the skin with Luminous Silk Compact Powder in 2 which Helena took with her for any touch ups during the night.
For her sultry eyes, Louise used Maestro finely milled eyeshadows. She swept shade 34 Light Pink over the whole eyelid, into the corners and on the brow bone to provide a base and a highlight. She then used shade 17 Navy across the whole lid and swept under the lashline with Smooth Silk Eye Pencil in 4 to match Helena's unique gown. Using shade 23 Black to add depth and definition in the crease with lashings of Eyes To Kill mascara in 1 which Louise says is Helena's favourite 'Eyes to Kill is the best mascara in the world!
There is not one celebrity that does not run off with it once I have used it on them.' Helena's crimson pout was created using Smooth Silk Lip Pencil 9 and Rouge D'Armani 400 which finished off her red carpet look. Helena also took these as her handbag staples.
Kristen Wiig
Kelly Cornwell was Kristen's make-up artist of choice to make her red carpet ready. Kelly kept it simple by using a slick of Rouge D'Armani in 103 straight from the bullet for a natural beige-pink shade. Kristen took the lipstick away with her for touch ups throughout the night.