I've already posted a preview of Illamasqua's Fall/Winter 2010 collection Art of Darkness and I told you that you can already get their Precision Ink for £16.50 at the Illamasqua website.
I always love to read how Illamasqua describes their products:
"Create looks with attitude that no one can ignore. Precision Ink's fine tip allows for defined application. Long-lasting and waterproof its perfect for use anywhere on the face and body to bring out your bold side.  Available in deepest black, Abyss, and antique gold, Alchemy, the waterproof formula dries in seconds and stays true for hours."
These are absolutely amazing, I love everything about them!
The colours are great, one can never have to many black liners as for the gold one – it's very beautiful and I didn't have a similar gold liner before (what a shame). And the colours are very pigmented, beautiful rich shades.
It's easy to apply the liner with such  applicator. Even if you are not confident with liquid liners you can still try this one.
These stay on FOREVER, I mean it! Precision Ink stays on for the whole day and doesn't move. But be sure that you use a waterproof  makeup remover because you will not take it off.  Can you imagine, when I tried these for the first time I could not find my waterproof eye makeup remover anywhere so I had to try the one for sensitive eyes and could not take it off. I managed to take some product off, but not all of it . So I had to go to sleep the way it was. And guess what?!  When I woke up, it looked the same, I didn't have black and gold mess all over my eyes.  Unbelievable!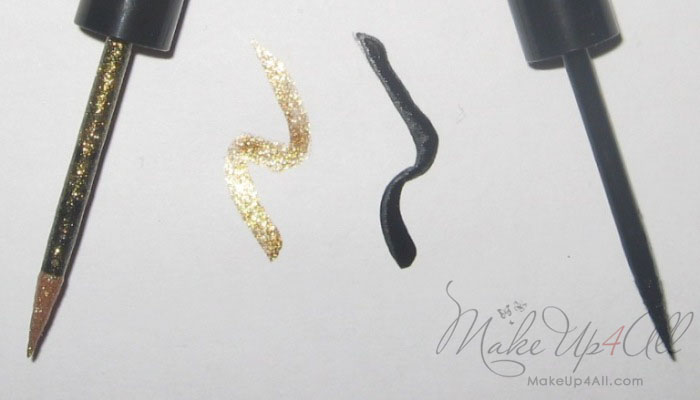 I also like the elegant black design. And the names, of course.
As you can see, I am very impressed and this may become my favourite Illamasqua product. I can't wait to see the rest of the collection!!!
I got Precision Ink  from Illamasqua 2 weeks ago and I am sorry that I write about these only now, this is because I was away for work.