Japonesque was founded 25 years ago but it is already a cult brand. It was originally made by Make-Up Artists for Make-Up Artists.  Brand's tools were inspired by the professional make up tools used in kabuki theater in Japan.
These days Japonesque has a big range of brushes and accessories which are loved by a lot of  Top professionals from the beauty industry.
This is why I was very excited when I was given some of their brushes to write about.  In this post I will tell you about the travel brushes for face and in future I will let you know about the brushes for eyes and eye brows. Unfortunately, I don't have a lip brush to show you.
The packaging is nice, simple and really helpful.  They have some very handy instructions on the back of  each box. All I can say is that I'd really appreciate it back in the days when I was getting my first brushes.
And here are the face brushes that I have in all their glory 😉
933 Travel Powder Brush, 924 Travel Blush Brush, 914 Travel Angled Foundation Brush, 910 Travel Concealer Brush.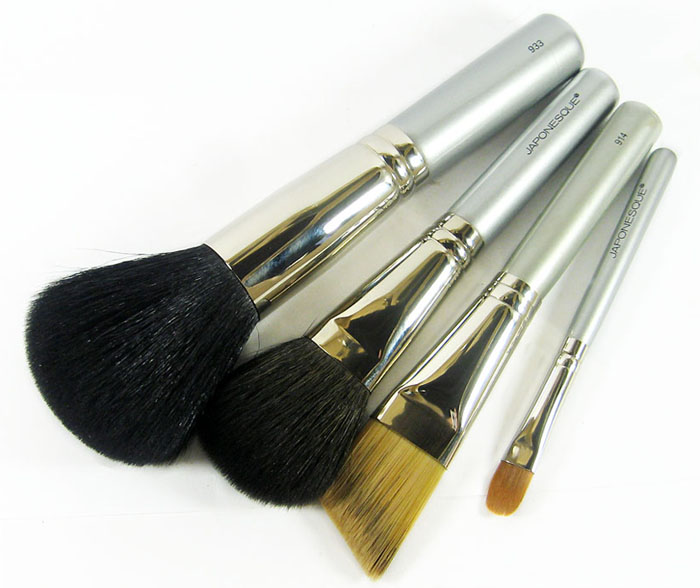 So now let's take a look at each brush, shall we?
But before we start I have to say that I can't believe how much I love these brushes, they are amazing! I am not even sure which one I like the best…
933 Travel Powder Brush £29.25 /$38
This is a gorgeous natural  fluffy brush. It  is incredibly soft  and nice as it touches your face, I like how it diffuses the product. You can use it for the powder or for blushes and bronzers if you want a more subtle application. This brush is quite big so you can also use it on your body. Although it is big, it is still travel friendly.
924 Travel Blush Brush, £24.00/$36.00
This is also a natural brush which is great for applying powder, blush and bronzer. It is not so big and round as the powder brush so it allows you to create a more precise application. The brush is incredibly soft and nice. I've tried to capture the shade on the photo.
914 Travel Angled Foundation Brush, £19.50/$24.50
I can't believe how much I love this foundation brush! The fact that it's angled makes the application so much easier! It's brilliant for precise application of the foundation around the nose and near the eyes. Although I have several different foundation brushes I usually apply foundation with my fingers when I do my own makeup ( I always use a brush on others) but I find that now I reach for this brush almost every time when I am doing the makeup. It makes the foundation looks smooth and flawless!  You can get a light coverage or build it up easily. I love it!
 910 Travel Concealer Brush £10.50/$11.50
This has to be my new favourite concealer brush! It is a thin synthetic brush which is perfect for concealing redness around the nose, dark circles under the eyes and even small blemishes. I like using eye liner brush (!) for very small imperfections but this brush works amazing, as well, as it it so thin and precise. The application is smooth and flawless, too.
I think that all these brushes are equally brilliant and  I would totally recommend them! Although these are travel brushes, the handles are long enough, but the brushes are travel-friendly at the same time.
You can see the whole range of the travel brushes at the Japonesque website.
Japonesque is available from Beauty Bay and Beauty Bar.
Stay tuned for the post about other brushes. I really hope  this post was helpful!