Today I want to tell you about the face cream that I have almost used up, and that I did not like at first, but ended up loving. And it's all about the Jo Malone Vitamin E Moisturising Day Crème SPF15.
I am a huge fan of a lot of Jo Malone's colognes, but this is the first skin care product that I've tried from them.
I actually  read some reviews about it on the website, and was surprised to see how mixed they are, some people hate this product, others adore.  As I have already told you, I did not like it at first myself, but decided to give it another try  this AW season, and my very dry skin loved it.
This was my  day cream of choice almost every day for the last several months. Why?
I find that it works great for my [dry] skin, it helps with the dry patches and tight feeling that I may have. Plus it does make the skin smoother, I find. And I personally like using it before applying the base.
Also, since you only need a tiny amount of product, it will last you for months.
Jo Malone promise that their cream defends the skin from the damaging effects of the environment, including cold weather, pollution and UV rays.  I'd like to believe that it's true. In fact, I loved how my complexion looked in cold months.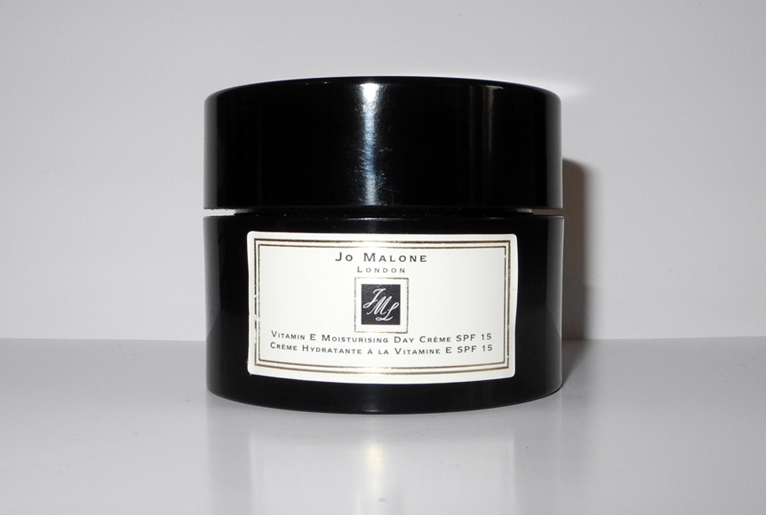 There is one more thing that I have to mention, Vitamin E Moisturising Day Crème SPF15  has a scent that may not be everyone's cup of tea, but it doesn't bother me personally.
This cream has a (very long) ingredients list:
The price is £50 ml for 50 ml. You can buy it from Nordstrom and Selfridges.
The moral of this story – sometimes you have to give second chances 🙂