I have to say that I am a huge fan of cream products: blushes, highlighters, shadows, liners etc. And I am also a big fan of blushes. And, yes, I love cream blushes but there are several powder blushes that I really like.
So today I want to tell you about the  powder blush that I totally love. And it is Blush Subtil by Lancome. This is how it looks like on the promo picture and I am showing you a promo picture because my blushes are in a set.
This is how 2  blushes that I've got look like:
Why do I like this blush so much?
First of all it is oil free which is very good, especially for summer.
It is matte, so it won't look horrible on your pores. And to be honest, I don't really understand how can anyone like very shiny/with shimmer blushes and bronzers.
Because it's matte it gives you a natural finish.
It's easy to work with this blush and  it's easy to blend it.
These particular blushes are from Browns-Neutrals (Cedar Rose) and Pinks-Berries (Aplum) families so they give a different effect and I love it.
It is also said that the blush is oil-absorbing. I don't  have such problem with my cheeks (maybe only forehead)  so I can't really say.
Anyway here is how both blushes look like swatched with flash. Please mind that the application is heavy so you can see the colour but if you use it the right way you're gonna look just great!
And here is the swatch without flash in a natural light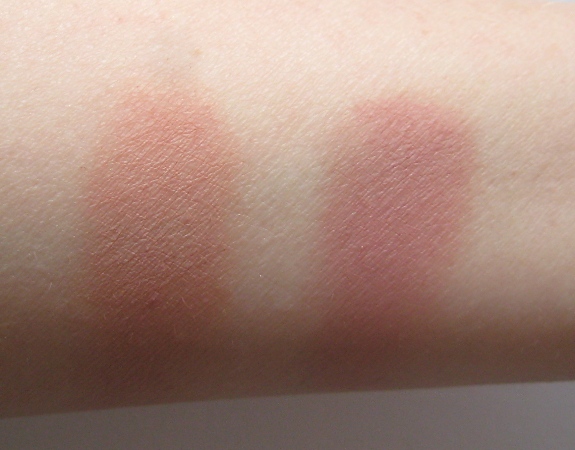 So would I recommend these blushes? Absolutely!
Lancome promises "The ultimate, natural-finish blush." and after I've been using this blush on myself and others I can confirm that it is true!
By the way, Sephora has only 3 shades of this blush and 2 of them are Aplum and Cedar Rose 😉
And what kind of blushes do you like? What formula and brand?