I really loved the video of Lisa Eldridge creating the look on Caroline de Maigret who collaborated with Lancome to bring out a AW 2015 makeup collection which is all about the Parisian chic.
Speaking of Parisian chic, I've had a book How to Be Parisian Wherever You Are: Love, Style, and Bad Habits written by Carloine and her girlfriends for some time now, and I should definitely read it at some point soon.
I am sure that I am not the only one who wants to play with the collection after watching this video… So what are the products?
Mes Incontournables de Parisienne,  £55
4 eyeshadows: a matte rosewood, an iridescent bronze, an intense brown and a warm, subtly scintillating taupe
1 illuminator: its very pale pink
3 brow powders: light, medium and dark
1 blush: pink cream blush
2 expert brushes: the Yeux Traceur et Ombre features a flat tip to apply and blend the shadow for an elegant smoky eye, as well as a firm bevelled tip to apply monochromes or eyeliner. the eyebrow applicator includes a brush to structure the brow and a bevelled tip to accentuate the line. It can also be used to apply eyeshadow like a liner to lids.
Eyes
Le Crayon Khôl, £17, 3 LE shades: Café serré, Chocolat chaud and Bordeaux corsé. Since Lancome's crayons are my favourite, I want all three!
Grandiôse Mascara, £24.50 in 07 Mon Regard Parisien.
Hypnôse Palette, £38 ST8 Mon Regard Parisien. A very pale pink to use as a base or an illuminator to refresh the look, a matte rosewood, an iridescent bronze, an intense brown and a warm, subtly scintillating taupe, for a faux-nude make-up result with just right dose of light and intensity.
Lips
L'Absolu Rouge, £22.50 in 305 Rose de Ville and 205 Rose Peau Nue
Nails
 Vernis In Love, £13.50 Gris Sur Les Toits, Rouge Bistrot or Cuir De Nuit. Three LE shades inspired by Autumn in Paris.
To be fair, I think this has to be my favourite Autumn 2015 makeup collection. I want everything, and will be trying the eye pencils, nail polishes and the lipstick Caroline is wearing when I am at Lancome's counter next time.
Besides the new collection, there is also an Auda[City]In Paris eye shadows palette which retails for $68 and contains 16 shades.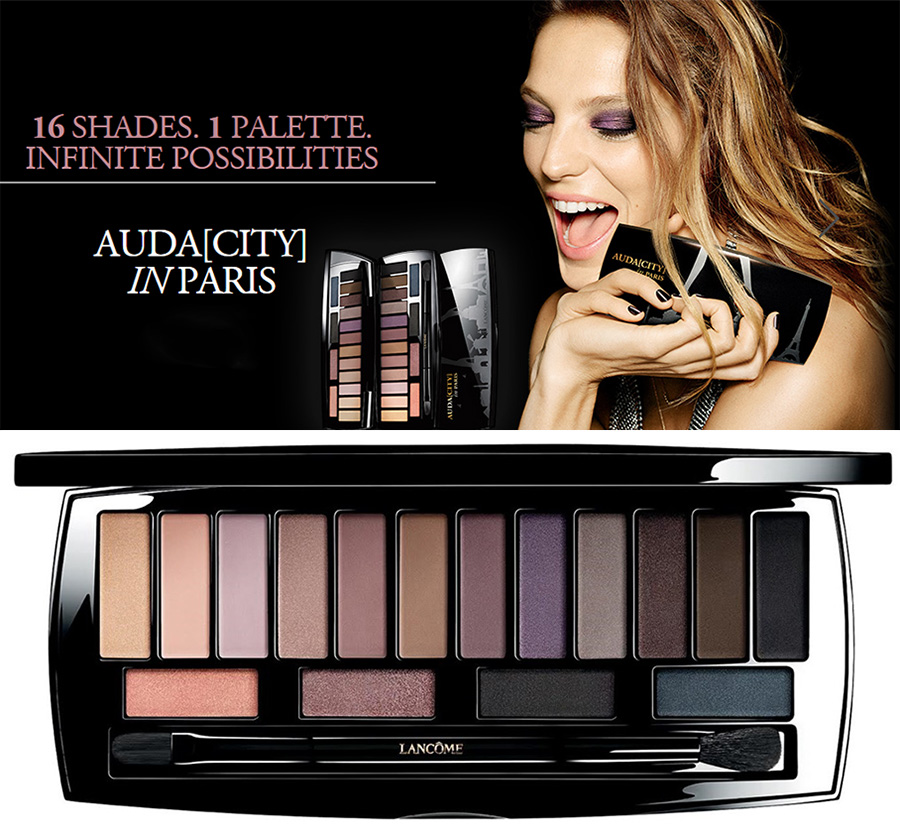 FILIGREE (LIGHT GOLD SHIMMER), CHOQUETTE (PEACH MATTE), PARFAIT (LIGHT PINK MATTE), KITTEN HEEL (GOLD COPPER SHIMMER), JOIE (GOLDEN-BRONZE SHIMMER), VOYAGE (MUTED PURPLE MATTE), SANTE (BROWN MATTE), ÉCLAIR (PURPLE METALLIC), EXHIBITION (ORCHID SHIMMER), ME UP (DEEP [PURPLE SHIMMER), (SILVERY GRAY SHIMMER), CLOCK STRIKES 12 (GRAY METALLIC),AUDACIOUS (SMOKEY BROWN SHIMMER), COUTURE (DARK BROWN MATTE), IT LIST (BLACK MATTE) and NUIT (BLACK METALLIC).
Lancome is available from Selfridges, Harrods, Neiman Marcus, Nordstrom, Sephora.