I promised to write some reviews about my favourite products. So today I will write the review of my favourite lip gloss! And it's Levres Scintillantes Glossimer by Chanel. Althougth I like Aqualumieres I like Glossimers better. I already made a post about Glossimers but here is the detailed review and lip swatches of one of my favourite shades – Mica. I've chosen Mica because this shade will look perfect on every woman!
This how the gloss looks like in real life + packaging. I say it's absolutely gorgeous!
This is what Chanel writes about the gloss:
"A long-lasting, ultra-gloss look; intense colours and a perfect finish. The gel texture, fluid yet substantial, is easy to apply, giving a perfectly even finish. The smooth formula keeps your lips comfortable.
A gelling agent of mineral origin supplies fluidity and body. Esters ensure glide-on application and optimum evenness of the gloss. They provide smoothness and emollience. Syrupy organic polymers contribute to the lasting quality of the gloss. Contents : 5.5 g."
As I already said this is my favourite gloss. Everything is perfect in it!
The design is absolutely amazing.
It really moisturizes your lips.
It stays on for a very long time.
It is perfect for every season because it protects your lips even better than some lip balms.
Glossimer has a perfect  formula and finish and I love how it looks and feels on the lips.
It is very easy to apply this gloss (it has an applicator while Aqualumiere has a brush).
Unlike some glosses that look terrible on your lips when they are dry this gloss doesn't have such effect. Moreover it helps you in this situation and makes your lips soft and smooth.
This is the swatch on the hand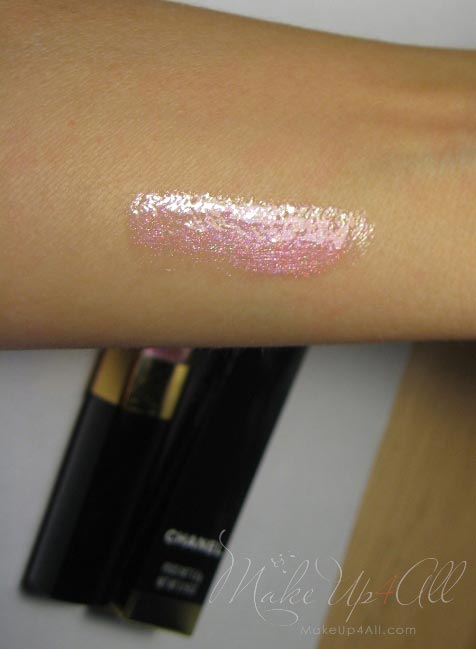 Swatch on lips. What do you think?
The conclusion?
I highly recommend you to try this gloss because to me it is perfect. Chanel is available from Nordstorm, Saks, Neiman Marcus, Selfridges and  Harrods.
And what do you think about this gloss? Do you love it as much as I do? What is your all time favourite lip gloss?